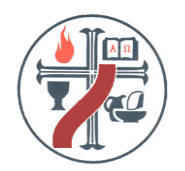 The Order of Deacon is of New Testament and apostolic origin. The Book of Acts contains what has traditionally been seen as the institution of the diaconate in the selection and appointment of "the seven" through prayer and the laying on of hands for service and distribution of food among widows in the community. The letters of Paul to the Philippians and to Timothy refer to deacons as officers alongside bishops in the life of the emerging church. Deacons became important figures in the administrative life of the church, often acting as the chief administrating officer to bishops and in particular in overseeing the temporalities of the church.
In the Middle Ages, the use and the influence of the office of deacon was diminished, as many of the roles and functions of deacons were taken over by presbyters or members of the minor orders (e.g., lectors and acolytes). During the English Reformation, the major orders of bishop, priest, and deacon were retained, while the minor orders were eliminated. Unlike the Eastern Churches, which preserved the Order of Deacon, the diaconate continued in the West as a transitional order in preparation for the priesthood. While Anglicanism claimed to continue the historic threefold orders of the Church Catholic, it was not until the 20th century that it gave serious consideration to the redevelopment of the diaconate as a permanent and distinct order of ministry.
The redevelopment of the diaconate has recalled the church to a fuller and more vital expression of its ministry as agents of mercy, healing, and justice in the world, especially among those living at the margins of systems and society, restoring the image of Christ who came "to bring good news to the poor." Women and men called to this ministry of sacramental presence in the world serve as a reminder to the people of God that all are likewise called to follow Christ's example of diakonia.
Ordination as a deacon is an affirmation by the church that an individual is being called to this distinctive ministry of service and agency, gifted and equipped to inspire and mobilize others into ministries of service, healing, and justice. They become sacramental signs of the presence of Christ in places of need and risk and vulnerability, in the faces of strangers and friends alike.
from The Iona Report pp. 18 and 19
The Diaconate - Anglican Church of Canada