---
History of the Cathedral
The Church of England arrived with English settlers and American Loyalists in the 18th Century. Their church, Christ Church, occupied the site where the Cathedral now stands.
Bishop John Medley arrived in Fredericton on 19 June 1845. Newly appointed to the See of Fredericton, the 40 year old Medley immediately set about planning for construction of a magnificent new cathedral.
The Cathedral was modeled after the church in St. Mary's, Snettisham, Norfolk. Today, the two churches bear remarkable similarities to each other. The architectural style, imitating from another building, is known as "Revived Gothic."
The cornerstone for the new building was laid on 15 October 1845 by Lieutenant Governor Sir William Colebrooke. The service of consecration marking the official opening of the Cathedral would not take place until 11 August 1853, almost eight years later.
The tower of the Cathedral was the last major part to be constructed. The original plans called for a twin tower design, but soaring construction costs led to the choice of a single tower. The original design was published in the Illustrated London News in 1849.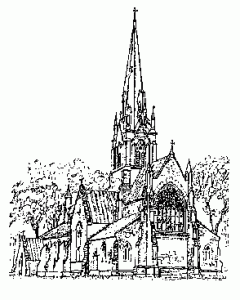 On 03 July 3 1911, lightning struck the Cathedral and the resulting fire gutted the spire and destroyed the choir when the bells melted and fell to earth. It took over a year and $100,000 to rebuild the Cathedral. On 12 August 1912, Bishop Richardson led a re-dedication service for the restored building. The newly constructed spire rose to 198 feet.
In 1983, the Cathedral was declared a National Historic Site by the Historic Sites and Monuments Board of Canada.
On 06 August 2006, a fire in the bell tower caused damage to the choir and the necessary repairs closed the Cathedral for several months.
On Sunday, 31 August 2003, the Cathedral celebrated the 150th anniversary of its consecration. It has welcomed the population of the City, the Diocese and the Province for the past century and a half; it continues to be a focus of municipal life, both religious and secular and, a well loved feature of the Fredericton skyline.
A history of the Cathedral was published during the episcopacy of Bishop John A. Richardson (1907 - 1938),
and updated during the episcopacy of Bishop Harold L. Nutter (1971-1989).
---