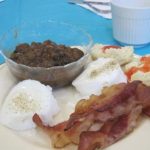 Diane Ramsey always knows where she'll be on the third Saturday morning of the month. She's a regular at the community breakfast in Cathedral Memorial Hall. "I meet new people every time I come here," Diane says happily. "I have such nice visits. The breakfast is such a treat and a break from my routine."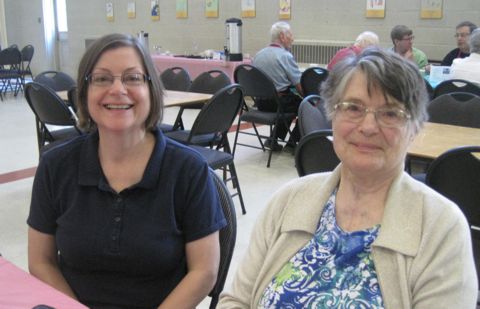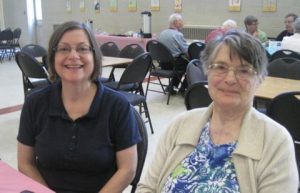 In July and August she'll have to find somewhere else to socialize because the organizers and volunteers, numbering about 20, are taking a well-deserved summer break until Sept. 15.
One of the people Diane met at the most recent breakfast was Janet Toole who found the food delicious and the atmosphere collegial. "I like to renew old friendships and meet new people, and the food is great," Janet said.
I come for the super delicious biscuits and the beautiful homemade jam …
For $8, guests can order eggs any style prepared by a professional short-order cook, bacon or sausage, baked beans and toast. Tea, coffee and juice are self-serve, and a bowl of mouth-watering homemade tea biscuits are delivered to your table with a smile.
"I come for the super delicious biscuits and the beautiful homemade jam," Ray Dixon said. "I really like the strawberry jam." His wife Dot chimes in: "But the marmalade is great, too."
Sandra Palmer makes all the jams, Cheryl Jacobs is responsible for the famous biscuits, and a busy team of waitstaff and dishwashers looks after everything else.
"I like helping out, and it's a nice social interaction," Shirley Rohleder said. "I have some regular customers, and everyone is always so cheerful here."
Catherine Mac donald echoes that comment. "I enjoy meeting all the people and making them happy," she said. "It's a rewarding thing to do."
Her husband Paul enjoys the volunteer effort, too, but he has another important reason to take part. "I help out of a sense of obligation because I'm part of the music team at the cathedral (he plays guitar in the praise band), and the money raised here goes into the sound system."
Breakfast organizer Harry Palmer explained that the breakfast raised $5,000 from last September until this June. It's a tidy sum and for a good cause.
Harry estimates that about 30 per cent of the customers monthly are cathedral congregants, with the remainder being from other parishes, the neighbourhood and throughout the city. "As the breakfast has been operating for several years, a considerable amount of money has gone into making phased improvements in the sound system, thanks to many non-cathedral breakfast patrons," he said.
He gave credit to the team of volunteers and to the cook, Paul LeBlanc, for making the breakfast the obvious success it is. "We'll recharge our batteries and see everybody in September," he said.
Ann Deveau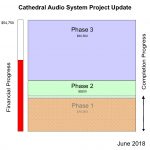 There is a June 2018 update on the cathedral Audio System Project towards which proceeds from Saturday breakfast have been destined for several years. Details on the specifics are included for those interested. You might also want to treat yourself to a reprise of Paul Mac donald's Ode to Biscuits which may just make it to the charts yet!