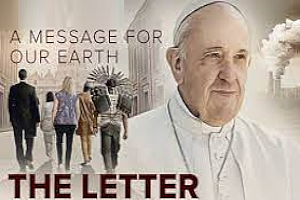 Join us for a special multimedia event to mark this Season of Creation!
On Saturday 23 September, from 7:00 - 9:00 p.m. in Cathedral Memorial Hall Lounge, we'll screen and discuss The Letter, an 82-minute documentary film providing environmental illustration, exploration and context to Laudato si', the encyclical letter on the care of creation that was released by Pope Francis in 2015.
The movie tells the story of a recent gathering in Rome where Indigenous and non-Indigenous leaders from many corners of the world met with Francis to respond to Laudato si'. The film is a fine witness and reflection on the climate crisis -- connecting climate change with human migration in Senegal; explaining the influence of unsustainable agriculture on deforestation and loss of human life in Brazil; telling the stories of Australian bush fires and flooding in India; and showing coral reef loss around Hawaii.
The stories in the film are presented in original languages with continuous translation.
Our screening will be followed by a brief reflection discussion.
Please reserve a seat with Kurt Schmidt: <k.schmidt at cccath.ca> or 506-259-3711.