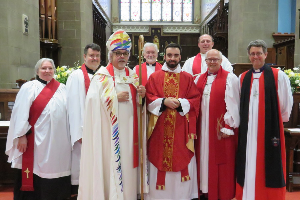 "Christ Church Cathedral was filled with people there to witness the ordination to the priesthood of Nicholas Saulnier, on April 30. Archbishop David Edwards presided, with assistance from Dean Geoffrey Hall and Bishop Nigel Shaw."
Click here to read the article by NB Anglican Editor Gisele McKnight, see photos and learn more about the ordination and Nicholas' unusual career path.
Nicholas and his fiancée Melissa will be married in the Cathedral in June. We wish them all the best!