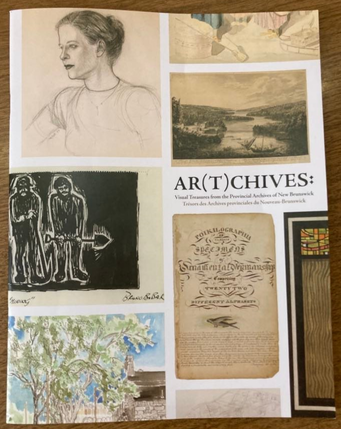 The Beaverbrook Art Gallery and the Provincial Archives have collaborated on an exhibit showcasing artistic treasures from the archives.
The exhibit, AR(T)CHIVES: Visual Treasures from the Provincial Archives of New Brunswick, is open to the public until May 28, 2023. Gallery admission is required.
"Archives are more than simply repositories of paper documents, ledgers, and census volumes; they often hold artistic treasures that tell an entirely different story than one containing only the written word. In partnership with the Provincial Archives of New Brunswick, we are pleased to present some of the most beautiful and fascinating visual records of New Brunswick (and Canada, for that matter) that you may ever see."
An illustrated booklet, available at the gallery, includes several works featuring Christ Church Cathedral, including architectural designs of the stonework, a pencil sketch showing the Cathedral and the Parish Church, and a watercolour sketch for the Reredos. Visit the exhibit to explore other treasures!