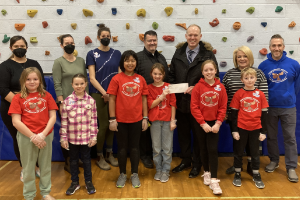 In December, Christ Church Cathedral donated $2000 to Montgomery Street School, a nearby elementary school with a number of children in need. The money, given by the congregation through a Giving Tuesday campaign, supported a school lunch program. We recently received a thank you note from the Home and School Association, signed by children in the school's Leadership Program.
---
A HUGE THANK YOU FROM US...
It is so heartening when we receive a gift from a generous group that allows us to say "yes, we can help" to one more child within Montgomery Street School. We would love to extend our appreciation and thanks from the children, staff and Home and School Committee to the congregation of Christ Church Cathedral.
With your generous donation that was provided, we are able to ensure that children are fed, have warm clothes for wintertime as well as all the extra needs needed by our students and families.
We are so lucky and grateful to have your support.
Reegan McDougall
President: Montgomery Street Elementary School, Home and School