The Reverends Nelson and Kara Mejia are SAMS Canada (South American Mission Society) missionaries and priests in the Diocese of Honduras. Kara Mejia is the daughter of retired New Brunswick priest Gordon Thompson and his wife, Bell.
The Cathedral Missions Committee supports their Ministry in Roatan, Honduras with yearly donations.
---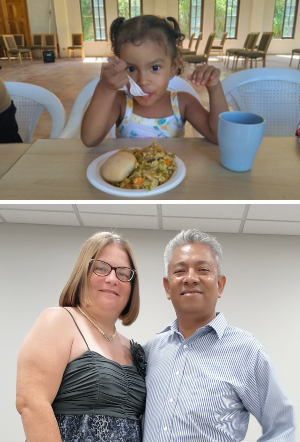 By the Revs. Nelson and Kara Mejia:
At this time of year, as we recall and reflect on the nativity story, we're reminded anew that Jesus really is the hope of the world.
In this month's edition of our ministry update, I can see evidence of the hope, joy, and redemptive transformation that comes through the love of Jesus.
As we look back on the year and look forward to the next with hope and expectancy, Kara and I (Nelson) wanted to take a moment to thank you for partnering with us, for your encouragement, sacrificial giving and especially prayers that make our ministry possible...
...
Click here to continue reading the full update, and see more photos! They have shared details about food deliveries to families, a community kitchen for kids, a women's meeting, clerical retreat, and deputation time, when Kara and Nelson will be visiting New Brunswick to share information about their ministry.