We recently received messages and a video from Ms. Jane Martinez, Principal of St. Hilda's Anglican School in Belize. As you can see, the families from St. Hilda's have faced hardship, tragedy, and also found joy. Please keep them all in your prayers.
Scroll down to watch the video below the letters.
---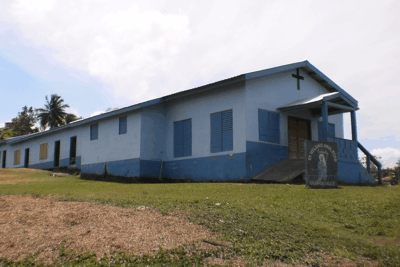 [December 23, 2022]
Greetings,
I pray all is well with you. This first part of the school year has been a great challenge for us here at St. Hilda's Anglican school but God's grace has kept us. We've had victories and heartbreak but to God be the Glory.
I am also sharing a video of some activities at St. Hilda's Anglican for the first Cycle,  September to December. I truly cannot find the words to express how blessed we are to have your support. We will continue to ensure that your investments are not in vain.
We love our Friends of St. Hilda's family and pray all the best for a wonderful holiday season and prosperous New Year.
Blessings,
Jane
[November 8, 2022]
Greetings Friends,
It is always a pleasure to send updates so that you know what is happening at St. Hilda's. I pray that all is well with you and your family as well as our Friends of St. Hilda's Family. The year has started out on a very busy note. I have been in classes since the beginning of September three to four times a week due to the absence of teachers so I have to multi-task. 
The month of October has been a roller coaster month. I say this because we've had to deal with tragedy as well as celebrate God's goodness. We have experienced a lot of illness at school recently; both teachers and students. Many of them are out with fever, cough and cold. Please keep them in prayer. We were to hold our inaugural ceremony for our preschool on October 19th. Unfortunately, on October 18th, one of our preschool babies died tragically in a road t
raffic accident just a short distance from the school. He was sitting in the front passenger seat along with his 6 year old brother in their neighbor's vehicle when she lost control. There were four students with her but he sustained serious head and body injuries and died a short while later. His name was Zaiden Villanueva. His parents are Joycelyn and Sylvester Villanueva and his brothers are Randy and Akeem. Please keep them in prayer as well as the other parent who was driving. She sustained injuries to her face and body but is doing much better physically. The mental aspect is of concern. This incident was a shock to us all and we had to suspend classes for the day. Our counselors came in to do grief counseling the following day. The following week, I was out sick. I had pain all over my body and fever. I later discovered that I had a kidney infection. Thankfully, I am feeling much better.
The highlight of the month was our school and church harvest. It was a wonderful celebration after suffering such a tragic loss. Our inaugural ceremony will now be held on November 9th. We are also thankful that we were spared any damages due to Hurricane Lisa. The staff, students and their families are all safe and doing well. 
In regards to the scholarship students, I do have mid semester reports for two of them so far. I will do my best to get the others and send them to you promptly.
I pray that you have a great day and rest of the week.
Best,
Jane