As part of our Cathedral Faces series, we are sharing biographies of our clergy and staff members. These dedicated individuals contribute a lot to our community, in ways seen and unseen, and we are thankful for their work.
---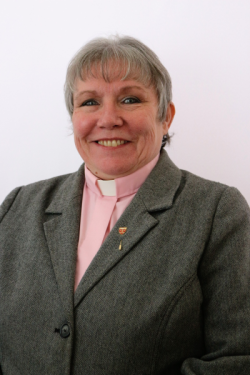 Born in Ottawa, Ontario, Debbie grew up in Keswick Ridge, New Brunswick, where she still makes her home with Phillip, her husband of 45+ years. They have two sons and daughters-in-law and four grandchildren, who are a tremendous source of joy.
She is a life-long Anglican, with, as she describes, "a well rounded Ecumenical background." Drawing on her rural roots, she leads workshops and retreats with humour and a down to earth sense of the sacred. Debbie was ordained as a Vocational Deacon on 01 February 2009. She completed training in Spiritual Direction with the Haden Institute in conjunction with Mount Carmel Spiritual Center in Niagara Falls in 2014.
She is employed as a Spiritual Care Practitioner at Dr. Everett Chalmers Hospital. She has always been involved with her church community through groups and activities from teaching Sunday School to serving on Vestry to being a Layreader and then being called to Ordained Ministry, which she feels is an ongoing learning and awakening experience. She is the Diocesan Representative for the Anglican Fellowship of Prayer and is also a member of the Diocesan Spiritual Development Team. She has volunteered with the Fredericton Homeless Shelters, and also was a volunteer reader with AMI-Accessible Media Inc.