All Souls' Day will be observed at Christ Church Cathedral on Wednesday, 08 November, 2023 at 10:00 a.m. (after All Saints' Day on Wednesday, 01 November and All Saints' Sunday which will be observed on 05 November). Prayer requests for the departed may be added by using this online form, by email <office at christchurchcathedral.com> or phone (506) 450-8500.
Names must be submitted by the end of the day on Tuesday, 07 November, to allow time for adding to the list to be read during worship. Thank you.
~  ~  ~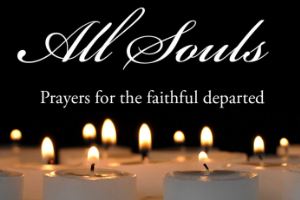 This is a day of prayer for the departed faithful. Like All Saints' Day, this commemoration is tied to the profession in the Apostles' Creed of the communion of saints, which former Archbishop of Canterbury Rowan Williams broadly interprets as the "sharing between holy people" or the "sharing of holy things." Based on the spiritual unity of all Christians, those living this earthly life and those who have gone before—the communion is a mystical bond in Christ not broken by death. The prayer cycle of the Office of the Dead is read/sung, and in some countries people pay tribute at their relatives' graves.
- text from the Anglican Journal