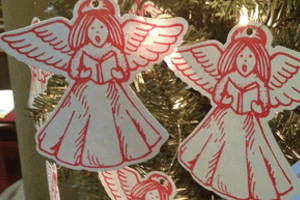 Fifty paper angels from Greener Village (the food bank) are waiting patiently to be chosen from a small tree in the cathedral. Each requests a specific Christmas gift or some stocking stuffers for a needy boy or girl in our city.
Please print your name and telephone number on the clipboard to indicate which angel you're adopting. Bring the unwrapped gift, with the paper angel firmly attached, to the church on Sunday, November 13th. Drop-off boxes will be set up near the angel tree.
If you can't bring your gift that Sunday, please take it to the Cathedral Office before Monday, November 14th, during office hours (weekdays 9:00 a.m. - 12:00 noon).  
"It might seem early, but demand at the food bank has skyrocketed," explained Outreach Committee treasurer Doug Milander. "They're dealing with 3,000 clients a month – 25 new families just last week – so they need plenty of time to collect and distribute the gifts."
Doug said the Outreach Committee deeply appreciates the congregation's generous support in making Christmas special for children in our city, especially during a lingering pandemic, high inflation and a looming recession.
He added that the committee must purchase any gifts that arrive late or not at all.
Another option for Christmas giving is to write a cheque payable to Christ Church Cathedral and indicate Christmas Outreach on the memo line. Deliver your cheque to the  church office by December 16th. As in past years, these funds will be divided equally among the Fredericton Homeless Shelters, Women in Transition House Inc. and the Fredericton Community Kitchens.