As part of our Cathedral Faces series, we are sharing biographies of our staff members. These dedicated individuals contribute a lot to our community, in ways seen and unseen, and we are thankful for their work.
---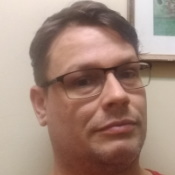 Ashley John Swim was born in Oromocto and raised in McAdam, where his family still resides. As a child and youth he spent a lot of time on his grandfather's farm just outside McAdam near the New Brunswick/Maine border. He considers himself an outdoorsman and loves nature, and is also an avid reader with a broad range of interests. He loves history and one of his favorite hobbies is tracing ancestry and genealogy.
Ashley has worked in a variety of settings over the years, including the YMCA of Fredericton, Christ Church Parish Church, Brunswick Street Baptist Church, the University of New Brunswick, St. Thomas University, and most recently the Maritime Forestry Complex.
Ashley is a proud New Brunswicker and Maritimer. He loves Fredericton and enjoys hiking and biking the many trails in and around the city. During the weekend and summer vacation, he can usually be found with his wife Lana and daughters Piper and Sundae near the ocean, either on Grand Manan or Pocologan. Ashley is very grateful to be a part of the Cathedral congregation.
As Cathedral Sexton, Ashley's work involves the cleaning and care of Christ Church Cathedral and Cathedral Memorial Hall. He frequently liaises with service providers, the Property Committee and Heritage Standing (the engineering firm that wrote the Cathedral Conditions and Issues Report). The position of Sexton is integral to the overall operations of Christ Church Cathedral.