John Stackhouse is the Samuel J. Mikolaski Professor of Religious Studies and Dean of Faculty Development at Crandall University in Moncton.
On 12 October, 2022, he will present a lecture in Christ Church Cathedral, hosted by the Anglican Diocese of Fredericton, offering a diagnosis, prognosis, and prescription for the condition of contemporary Canadian Christianity. The title of the lecture is Thick Churches: The Answer to Christianity's Decline in Canada.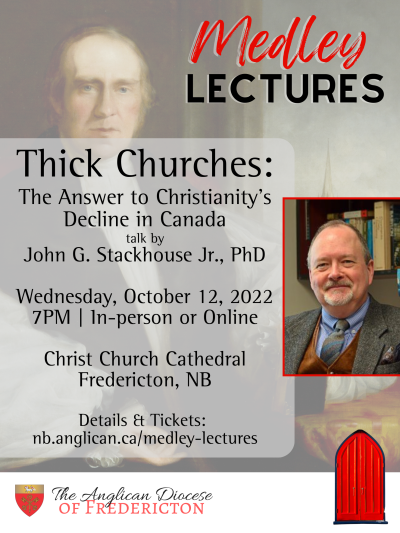 This presentation is open to all, regardless of denominational affiliation or faith connection, and will be available in person at Christ Church Cathedral, Fredericton or through webinar format. There is no change for admission.
Professor Stackhouse will sum up the grounds of the Canadian Confederation in three sentences; the religious history of Canada in three stages; and the social history of Canada in five minutes. He will show that we are now in a post-Christian Canada and, more broadly, in a post-postmodern civilization. For many of our neighbours, the Christian Church seems like an enemy and the Christian gospel a threat. How, therefore, can Canadian Christians remain faithful to God while also reaching out in useful and welcome service to our fellow citizens?
Progessor Stackhouse has lectured at Harvard, Yale, Stanford, Edinburgh, Bristol, Hong Kong, Macquarie, and Otago universities as well as across Canada. His work has been featured by media as diverse as The New York Times, The Atlantic, The Times Literary Supplement, ABC News, and CBC Radio.
Click here to register for the lecture on Wednesday, October 12, 2022, 7:00-8:30 p.m. (virtual or in-person).
Questions can be directed to Shawn C. Branch, Parish Development, Anglican Diocese of Fredericton, (506) 459-1801 ext 1008.