A message from Thomas Gonder, Cathedral Organist and Director of Music: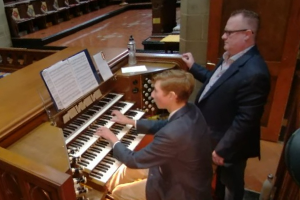 "I am thoroughly delighted to announce that upon approval of The Dean, I have appointed Christian Vanicek Organ Scholar to Christ Church Cathedral. Christian just turned sixteen and has been studying with me since late last Summer/Early Autumn. He has progressed at an astonishing rate and recently made a stunning debut this past Summer closing our Summer Concert Series (and broke attendance records!). Christian is currently the organist at St. Peter's Anglican Church in Fredericton, so we won't see him on Sunday mornings. However, as an extension of his private organ studies with me, I will be guiding him through service playing for the bi-weekly Evensong at the Cathedral. He'll shadow me for a month or so before I put him on the bench for Hymns, Psalms, Canticles, Anthems, Preludes and Postludes and the like. He'll do an amazing job. He's a wonderful talent of exceedingly delightful countenance and extraordinary discipline. What great news to share! Welcome, Christian!!"
Christian played the final concert of the 2022 Summer Music Series at the Cathedral on 26 August, on the piano and organ. Here is his biography from the program.
* * * * *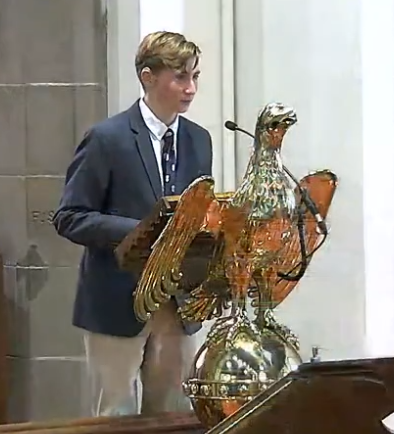 Christian Vanicek recently turned sixteen and is a native of Fredericton. He is a graduate of Bliss Carman Middle School and currently enrolled at Fredericton High School. He has won numerous prizes at the Fredericton Music Festival and just this past June represented Fredericton at the Provincials. He has studied piano since the age of four and pipe organ since last October. He studies piano with Barbara Marks and organ with J. Thomas D. Gonder. Aside from his musical studies, he is involved with the Calithumpians and enjoys playing soccer. Christian is currently the organist at St. Peter's Anglican Church, Fredericton.