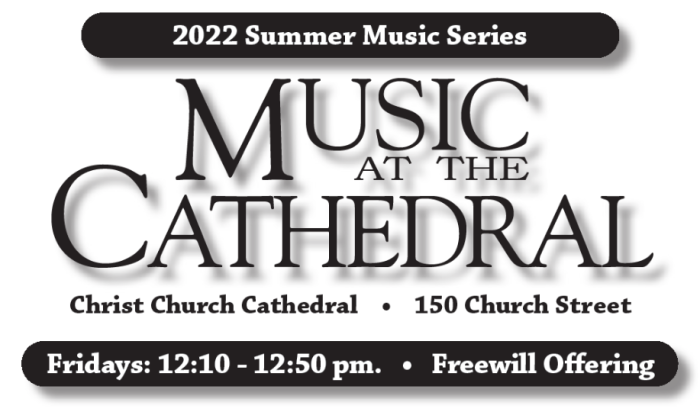 Our Summer Music Series returns with nine noontime concerts, held each Friday between 01 July and 26 August. Join us inside historic Christ Church Cathedral as we present a series of concerts featuring choral music, soloists, fiddle, guitar, viola, organ and piano. View the poster.
Each concert will run from 12:10 - 12:50 p.m. All welcome!
Face masks are encouraged as a way of showing care for others.
Free admission, donations encouraged. Proceeds will support the Organ Renovation Fund. Tickets are not required, but online donations will receive a receipt for tax purposes emailed immediately.
July 1
J. Thomas D. Gonder, organ

July 8
Natalia Lubimova, viola and J. Thomas D. Gonder, piano

July 15
J. Thomas D. Gonder, organ
(unfortunately, the Metropolitan Choir School from London, Ontario is no longer able to attend)

July 22
Steven Peacock and Gerry Van Wart, guitars

July 29
Katherine Moller, fiddle and Tom Richards, guitar

August 5
New Brunswick Summer Music Festival ~ The Elm City String Quartet

August 12
Olivia Spahn-Vieira, soprano and J. Thomas D. Gonder, piano

August 19
Luke Noftall, baritone, and J. Thomas D. Gonder, piano
(unfortunately, Olivia LaPointe is no longer able to perform)

August 26
Christian Vanicek, piano and organ
* * *
Make a donation to the Organ Renovation Fund
(tax receipt emailed immediately)