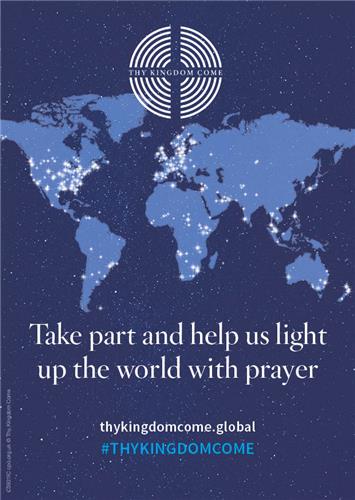 Thy Kingdom Come is a global prayer movement that invites Christians around the world to pray for more people to come to know Jesus. What started in 2016 as an invitation from the Archbishops of Canterbury and York to the Church of England has grown into an international and ecumenical call to prayer.
Download the Guide for Eleven Days of Prayer
Join the global wave of prayer calling all Christians to pray between Ascension and Pentecost for more people to come to know the love and peace of Jesus Christ.
Christ Church Cathedral will participate from 26 May - 5 June 2022, with several group and individual prayer initiatives. View the Guide for Eleven Days of Prayer for information about events, resources for all ages, and readings to help you focus. Printed copies are available at the Cathedral and Hall. A Prayer Journal and Novena are also available to download for free on the Thy Kingdom Come website.
Thy Kingdom Come begins with Ascension and ends with Pentecost. Celebrate the Ascension of the Lord on Thursday 26, May at 7:30 p.m. in the Cathedral. Celebrate Pentecost on Sunday, 05 June at 8:00 a.m. and 10:30 a.m. in the Cathedral.
In the days between Ascension and Pentecost, it has been the habit of many Christians, for centuries, to make the focus of our prayers the same as those first believers. Christ's last instruction to His disciples on the day of his Ascension is to 'wait for the gift my Father promised' (Acts 1:4).
Join us each weekday during Thy Kingdom Come for a local discussion (30 min) about the Archbishop of Canterbury's series of reflections on 1 Peter. We begin at 5:15 p.m. 27 May, online via Zoom or in the Memorial Hall boardroom. Visit the calendar event for the Zoom link. This Novena seeks to enable you in your waiting for the gift the Father promised, by focusing on nine particular verses in the first letter of Peter – one of those present in that upper room. Each day we will take one of those verses and seek to be shaped by it. It's a book which opens our hearts to God and lifts our eyes to the worldwide family of God.
Each weekday we also read the Daily Office in the morning (8:45 a.m.) and in the evening (4:45 p.m.) in the Cathedral. Join us for this prayer Monday - Friday. It takes about 15 minutes.
Thy Kingdom Come encourages every Christian to pray daily for 5 individuals to know God's love for them in Christ. We hope that you choose to participate in this global prayer movement.