Do you love history and enjoy meeting new people? Apply for a summer job as a Cathedral Tour Guide!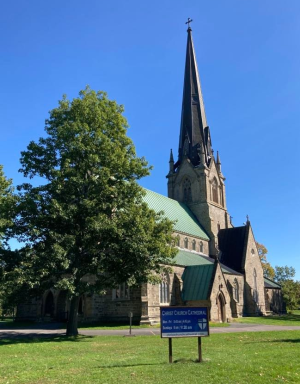 Christ Church Cathedral in Fredericton, New Brunswick is pleased to once again open its doors for tours this summer. Two part-time tour guides will be hired to provide a warm welcome and excellent hospitality to visitors and locals.
With hundreds of people choosing to visit the Cathedral each year, it is a wonderful opportunity for our guides to share the key role of our church in Fredericton's past and present. Previous summer tour guides have enjoyed meeting people from around the world, learning the history of the Cathedral, and gaining experience in bilingual tourism.
A job as a Cathedral tour guide involves welcoming visitors in English and French, providing tours, and assisting with events. Training will be provided. The guides will be under the supervision of Hank Williams, Verger. The positions are available to adults or youth 16+ years old. Candidates for this position are not restricted by religious affiliation; however, knowledge of the Anglican church would be considered an asset.
Click here for details about the position.
Application Process
Please submit a resume and a cover letter which explains why you have applied for the position and why you feel you are a suitable candidate. Applications may be submitted by postal mail, email, or in person during office hours (9:00 a.m. – 12:00 p.m. Monday-Friday).
Email: <office at christchurchcathedral.com>
Christ Church Cathedral Office
168 Church Street
Fredericton, NB  E3B 4C9
Deadline for Applications
Applications must be received by Friday, 20 May, 2022. Interviews will take place with selected candidates during the following two weeks.