[Updated April 12, 2022]
Our Parish Nurse shares information about Paxlovid, a new treatment for COVID-19.
---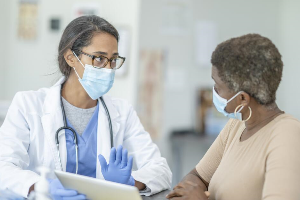 As another week of COVID-19 continues on with cases surging and reduction to public safety measures, I wanted to remind those who are eligible (see below) that Paxlovid is a treatment option for eligible New Brunswickers who contract COVID-19.
To obtain the medication, a positive result from a COVID test administered through Public Health is required, so book a test immediately if you think you might have COVID. You must receive a PCR test, not an at-home rapid testing kit.
Inform your Primary Care Provider that you have tested positive for COVID-19 and you would like to be assessed for Paxlovid. If you do not have or cannot reach your primary care provider, call 811 or e-VisitNB to see a New Brunswick nurse practitioner or doctor online.
Paxlovid can be given in the first 5 days of symptom onset. It is available to those who are:
80+
50-79 and partially or under-vaccinated
50-79 who are residing in a long-term care setting; or living in, or from First Nations communities or those receiving home care services
18+ and immunocompromised
To be eligible for this medication you must meet the following criteria:
COVID-19 infection confirmed by a PCR test, or an Abbot ID Now test in First Nations Communities, or a positive rapid test in a nursing home during in an outbreak
Mild to moderate symptoms present (fever, cough, mild shortness of breath, loss of appetite, loss of smell and/or taste, fatigue, runny nose, muscle aches, etc)
Symptom onset was within the past 5 days.
Additional information about Paxlovid and criteria is available on the New Brunswick Public Health website. Contact your Primary Care Provider for more information.
---
Second COVID-19 booster doses are set to become available in New Brunswick on 19 April at participating pharmacies. Adults over the age 50 are eligible if it has been at least 5 months since a previous booster. NB Public Health is strongly recommending second boosters for individuals over 70 and long term care residents, First Nations, Inuit and Métis and their non-Indigenous household members aged 18 and over. Anyone with a recent COVID-19 infection should wait 3 months from the time of infection before receiving a second booster dose.
---
Visit the Government of NB website for more information about COVID-19.
Cathedral Parish Nurse Sarah Ecker is available to answer questions. Email <nurse at cccath.ca> or phone the Cathedral office (506) 450-8500.