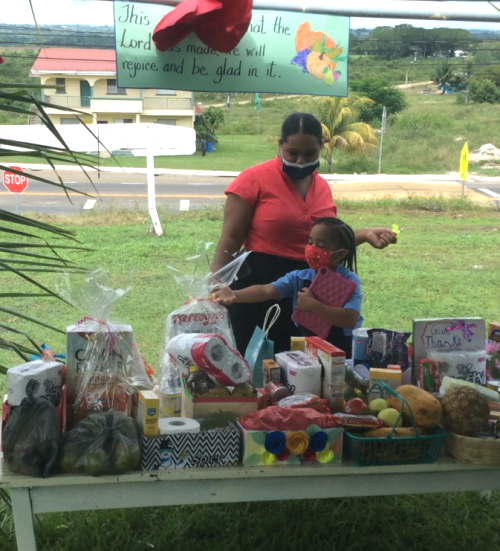 Ms. Jane Martinez, principal of St. Hilda's Anglican School in Belize, sent us some photos of 'St. Hilda's Harvest', a recent event where the students collected and packaged items for senior citizens in their neighbourhoods. View the gallery below to see photos of this special event.
Christ Church Cathedral provides funds each year to help provide necessities for the elementary school, which educates approximately 200 children between kindergarten and grade 8. Over 60 Cathedral members ranging in age from 15 to 79 have gone on a mission trip to Belize between 2005-2018, and hundreds of people in Fredericton have supported the work through organizational support, donations and prayers.
The Cathedral's four high school scholarship recipients, Korey, Edvin, Jenniah and Gian, continue their efforts. Two of the scholarship students had a difficult year due to pandemic challenges and family circumstances, but both have persevered and improved their marks in the recent semester. We have high hopes for all of the students' continued success at overcoming obstacles.
In Belize, the average age at which a child leaves school is 13 years old, because of the prohibitive costs of tuition for high school, which is not publicly funded. Unemployment in the country is high, there are many large single-parent families, and almost half of Belizeans live below the poverty line. In 2010, Cathedral mission team members established a high school scholarship program which has allowed St. Hilda's students to apply for a scholarship to continue their education past grade 8. Some of the graduates supported by the Cathedral have gone on to post-secondary education.
Please pray for the students and teachers at St. Hilda's School, our scholarship students, and their families. Contributions towards the Belize mission are welcome and appreciated, especially during these pandemic times when the Missions Committee has not been able to hold a fundraiser. You may give and receive a charitable tax receipt by making an online donation or submitting a donation marked 'Belize' through the Cathedral office or offering plate.
Scroll through the photos below from St. Hilda's Harvest: