Listen to Diane Nash on Sunday 28 November 2021
Mothers' Union is again participating in The United Nations-recognized 16 Days of Activism Against Gender-Based Violence and Abuse, and encourages churches and individuals to join the call for prevention and elimination of all forms of violence against women and girls. The annual international campaign, now in its 30th year, takes place between 25 November (International Day for the Elimination of Violence Against Women) and 10 December (International Human Rights Day).
Gender-based violence can affect any person at any time
Gender-based violence can affect any person at any time, and statistics demonstrate that women and girls are particularly at risk. Every day, Mothers' Union works alongside communities to help end domestic abuse and gender-based violence and to support those affected by it.
During this time of activism and awareness, also referred to as the Global 16 Days Campaign, Mothers' Union's prayers will focus specifically on women and girls, recognizing the value of women and men reflecting, praying, and acting together to call for an end to violence in all its forms.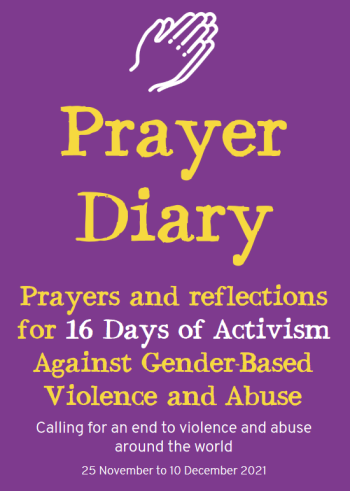 A prayer diary has been created for use during the 16 Days of Activism. By using the resource, says Worldwide Mothers' Union President Sheran Harper, "we come together to focus our prayers for those living with gender-based violence and those making a stand for change, as well as improving our understanding of the impact of gender-based violence across society."
In conjunction with the global celebration on 27 November, participants will be using the hashtag #nomore1in3 online as a way to highlight the violence and abuse suffered by 1 in 3 women across the world, and calling for an end to such atrocities.
Harper concludes, "Domestic abuse and gender-based violence affect people in different ways. By having this focus, we are not forgetting others; Mothers' Union is against all forms of violence and abuse. Our members show such passion and commitment in their work, as they make communities and individuals safer around the world. Let us not be overcome, but through our prayers and actions be part of something that means women and girls can live to their full potential. Let's work to make our world a place where they can do this without fear, in the knowledge that they are precious, that they have rights, that they are wonderfully made."
Download the Prayer Diary: Prayers and reflections for 16 Days of Activism Against Gender-Based Violence and Abuse