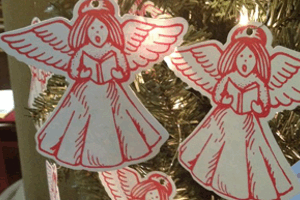 The Christmas Angels are soon coming back to the Cathedral.
"In 2020, with the uncertainties of the pandemic and no vaccines in sight, we donated $1,800 instead of running the usual toy drive," explained Outreach Committee treasurer Doug Milander.  "The cheque reflected the value of the toys usually provided by our congregation to the Greener Village Food Bank. The managers were really pleased with our help."
This year 50 paper angels will be hung on a little, lighted tree in the cathedral. Each will indicate the name and age of a local child in need as well as a suggested toy or other gift. Some requests will be for stocking stuffers instead of specific toys.
"A new twist this year is that the food bank wants all of the items returned to them by November 15th at the very latest," Doug added. "This will allow in-person or online shopping to be done well before the Christmas rush, and it will give their staff more time to arrange for deliveries to the hundreds of registered families."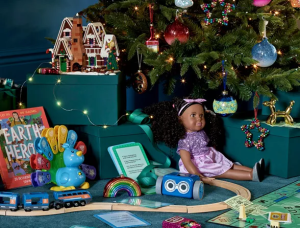 As in past years, collection bins will be set up at the cathedral and at the church office to receive the toys and stocking stuffers.
"The cathedral family has a long and generous history with the Christmas Angels program, and people always seem happy to put a big smile on a child's face at Christmas," Doug said.
He added, however, that the Outreach Committee will dip into its budget to supply any of the 50 gifts missing at the deadline.
As soon as the paper angels arrive from the food bank in October, more details will be provided to the congregation. Stay tuned!
by Ann Deveau