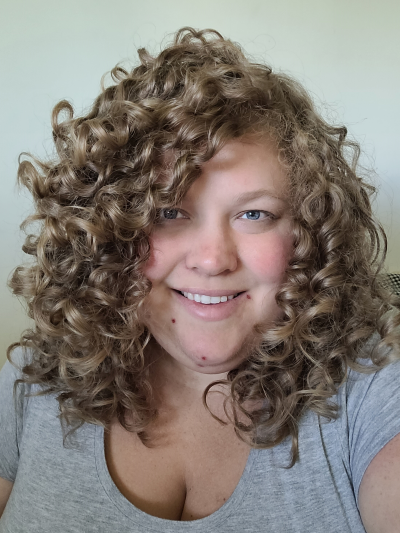 By now, you may have had an opportunity to check out Sarah Ecker's profile on our website under Clergy and Staff: Parish Nurse. While it gives you a glimpse into the life of this amazing, outgoing, bubbly, professional nurse, we think it just scratched the surface. And so, here's a slightly deeper look at our newest staff member.
Sarah was born and raised in Fredericton and thanks to her 'build one and sell it' father, she has lived in many different houses in different parts of the city. In typical New Brunswick fashion, it didn't take long to find a degree of separation connection between Sarah and I (Gail MacGillivray).
My Dad would not even consider the purchase of a vehicle that was not sold by Alison Monteith of Monteith Motors - Sarah's Dad! I recall many stops at Monteith Motors over the years. Alison was such a good salesman that he even managed to recruit Sarah to work for him. Her career as a used car salesperson lasted for about 2 years.
It was quite a leap from selling cars to nursing, and a whole lot of life experiences before and after both for Sarah.
Shortly after graduation, at the ripe old age of 17, Sarah headed for Virginia. A close friend of hers was heading off to a Bible College and Sarah decided to follow. Sarah's upbringing was as an Evangelical and this study of Theology gave Sarah a broader understanding of the many different ways that we worship.  It was one of many life experiences where Sarah felt a calling to be in that place at that time. Her time at the College also gave her a chance to travel throughout the USA, to Northern Ireland and Jamaica, and to experience diversity in race, language, religion, lifestyle and more.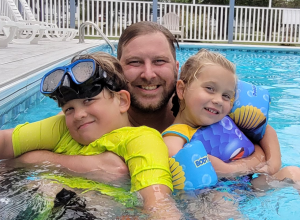 While Sarah was studying Nursing at UNB, she spent a summer working at a children's camp on the Miramichi. It was here that she met her husband, Andrew. Andrew was working on a degree in social work. Andrew was born in Ontario but grew up in Miramichi. As Sarah put it, "they just clicked" and by the next summer they were engaged.
Sarah and Andrew currently live in Mactaquac) and they have two children, chickens, a dog, a cat and a deep love for their community!
She describes their 6 year old son, Elias, as being "too smart for his own good" and says he is frequently referred to in her family as "the Mayor" as he always has a handle on what is going on and is more than willing to assume a leadership role. Elias is in Grade One and it sounds like he is destined to be class president! Daughter Mercy is 4 and her Mom describes her as "fire and ice". A deeply passionate spitfire who is also very tenderhearted. Andrew currently works for the Mobile Crisis Unit, a division of Horizon Health which responds to mental health crises.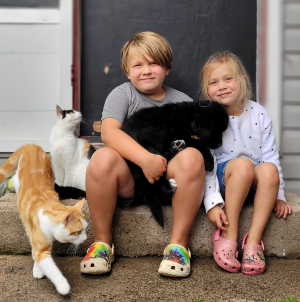 Sarah and her family are deeply focused on their Christian beliefs and living a life in Christ internalized.   When the Pandemic first broke out, like many people, Sarah and Andrew spent time at home in reflection. As Sarah put it, COVID gave them a chance to examine closely the human qualities most important to them, recognizing that what they wanted was "to be a part of a community that was part of their values." They came to the conclusion that their Church family, especially, had to reflect those values of justice, mercy and humility.
Sarah is "loving the new job" as our Parish Nurse. She describes herself as someone who "loves working in a team environment" and especially loves collaborating with different sectors and "building bridges".  She looks forward to having the opportunity to work as part of a team focused on "bringing wellness to people in body, mind and spirit".
Once again, a hearty Cathedral welcome to Sarah, who hopes that everyone will reach out to her, if only just to say hi. She is looking forward to her role in Pastoral Care and to working with the many volunteers that allow the Parish Nurse to make a positive difference in the lives of our congregation members!
by Gail MacGillivray