The New Brunswick Summer Music Festival is coming to Christ Church Cathedral. The annual classical music festival will host its main series, four evening concerts between 11-14 August, inside the Cathedral.
The festival, now in its 28th year, will run over a two-week period and include a variety of musical events, such as concerts, educational components, mentoring opportunities for young artists, free public events, lectures and exhibits.
The 2021 theme will reflect the difficulties of the past year, showcasing music from composers that were affected by previous pandemics. According to the festival website, "From the Influenza in 1918-19 back to others throughout the nineteenth century, several important composers were adversely set back as a result of the health issues of their day. But their lovely music transcends the difficult circumstances, and we will weave their stories with the music. Featured will be compositions of composers such as Tchaikovsky, Prokofiev, Rachmaninoff and others."
Tickets for the evening concerts in the main series of the festival must be purchased in advance from the NB Summer Music Festival. Ticket prices range between $14.81 – $27.54. The main series will feature well-known performers: David Adams, violin; Sonja Adams, cello; Peter Allen, piano; Christopher Buckley, viola; Sally Dibblee, soprano; Nadia Francavilla, violin; and Richard Hornsby, clarinet. Details about the schedule and performers can be found on the festival website.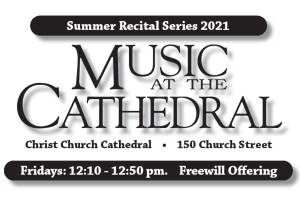 An additional event, a free noontime concert on Friday, 13 August, will be held as part of Christ Church Cathedral's Summer Recital Series, and will showcase a sample of music from the New Brunswick Summer Music Festival. Donations at this concert will be collected, with proceeds supporting the Cathedral Organ Renovation Fund. Please reserve tickets for the noontime concert through the Cathedral website.