As referenced in the Dean's Pastoral Letter for Christmas 2020, the true cost of the current pandemic is yet to be calculated. The issue of many in our society attempting to navigate the economic realities should be important to us all. Please pray for those affected by the COVID-19 pandemic.
On 18 December the Dean of Fredericton signed the letter below addressed to New Brunswick Premier Blaine Higgs and Minister Wilson.
See New tenants' rights coalition hopeful for reform on CBC New Brunswick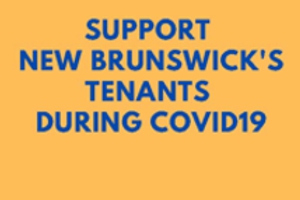 Re: Support New Brunswick's Tenants During the COVID-19 Pandemic
Dear Premier Higgs and Minister Wilson,
We, the under-signed non-profit organizations and grassroots advocacy groups working in the areas of
housing, poverty, employment, and human rights, are writing to request government action to offer
support for tenants in New Brunswick during the COVID-19 pandemic. As a group of organizations with
expertise in housing and closely related issues, we are providing the following:
1) a summary of the challenges facing tenants in New Brunswick,
2) a list of pandemic-related recommendations for your consideration, and
3) a discussion of some of the benefits for New Brunswickers that these measures can produce. As the COVID-19 pandemic continues, other provinces have offered similar support for tenants and we request that the government of New Brunswick consider doing the same.
The Challenges
As the COVID-19 crisis continues, greater support for tenants in New Brunswick is urgently needed.
Even before the pandemic, tenants in New Brunswick were facing significant challenges. The Canadian
Rental Housing Index 1 shows that 36% of renter households in the province are living in unaffordable
housing, with 14% living in situations of severe unaffordability. At the same time, the New Brunswick
government has reported that across the province vacancy rates dropped while tenant shelter costs
rose 14% between the last two censuses 2. In this same timeframe, the median tenant income increased
by only 11% ($29,769 to $33,226). Homeowners in the province, however, experienced the inverse,
with median income growing by 13.8% ($62,602 to $71,259) and shelter costs by only 9.9%. 3 Simply
put, tenants in the province, as a group, have less of a financial reserve to draw on during periods of
hardship. This hardship is experienced disproportionately by lone female parents, people with
disabilities, and Black and Indigenous people and People of Colour. The pandemic will only continue to
exacerbate these challenges.
In addition to the concerning trends represented by these statistics, anecdotal evidence of a rental
housing crisis is in the news and on social media, with tenants reporting monthly increases in rents of
upwards of 50% at a time, amounting to hundreds of dollars per month. Faced with these new and
unanticipated costs, it is foreseeable that many tenants will be forced to seek lower-priced
accommodations at a time when there is an extreme shortage of affordable rental stock. There is also
the risk that tenant relocation due to dramatic rent increases will require tenants to move out of their
neighbourhoods and further away from their places of employment, thereby disrupting access to their
support networks and necessities such as public transportation and childcare.
While we recognize that average rent and utility costs in New Brunswick may be lower than the national
average in absolute numbers, so too is the average income of New Brunswick tenants. When
compared to the national average, tenants in New Brunswick are spending approximately the same
percentage of their income on rent and utilities and face similar rates of unaffordable housing. 4 Tenants
in New Brunswick, therefore, need support similar to that provided in other jurisdictions.
Our Recommendations
We are calling on the provincial government to immediately implement the following support for
tenants:
1. Introduce a 2% cap on rental increases for existing tenants until a vaccine has been
successfully rolled out and the entire province of New Brunswick has been moved into the
Green Phase.
This will ensure that tenants remain housed at a time of income uncertainty. It will also allow
tenants to budget effectively at a time when New Brunswickers are often forced to miss work
due to symptoms of or risk of exposure to COVID-19.
2. Make this 2% rent cap retroactive to September 1, 2020, and allow tenants to apply any
ensuing rent credits to arrears and/or future rental costs.
3. Re-establish a moratorium on evictions until the entire province returns to the Green Phase.
Since June 1st, 2020, New Brunswickers have been without any kind of eviction protection
despite the economic hardships brought on by COVID-19 and the now well-established
relationship between homelessness and vulnerability to COVID-19. As the second wave of the
virus continues to hit Canada hard as winter begins, it is essential that New Brunswick tenants
have a secure place to live where they can limit contacts, self-isolate if necessary, and maintain
their health and well-being as we weather this crisis together. A renewed moratorium on
evictions would support public health efforts to stop the spread of COVID-19.
4. Fund a rent bank that provides tenants in financial need with non-repayable grants or interest-
free loans to cover their rent OR implement a rental subsidy program similar to that put in
place by the government of Prince Edward Island at the beginning of the pandemic.
A rent bank will limit rental arrears and forestall evictions for unpaid rent during the pandemic
following the end of any moratorium on evictions. More broadly, a rent bank will support the
provincial government's stated commitment to "timely access to affordable, safe and adequate
housing options that meet individual needs and promote healthy and inclusive communities." 5
One model is the BC Rent Bank, with funding provided by the provincial government. 6
We also request that in the new year, before March 31st, 2021, the government take the following
actions:
1. Roll-out the Canada–New Brunswick Housing Benefit that is part of the Canada–New
Brunswick bilateral agreement under the National Housing Strategy.
As part of the National Housing Strategy, "the federal government committed to introducing a
new $4 billion dollar Canada Housing Benefit that would provide affordability support directly to
families and individuals in housing need." 7 While other provinces have taken the opportunity to
implement housing benefits for low-income renters (e.g. Nova Scotia, Ontario), New Brunswick
has not yet done so. However, there are provisions for the implementation of this benefit for the
2020–2021 fiscal year in the bilateral agreement (see Schedule B). 8
2. Establish a New Brunswick Affordable Housing Commission
The commission will support the implementation of the provincial housing strategy and will
identify and contribute to the establishment of promising practices for the purpose of addressing
housing challenges in the immediate post-COVID-19 context.
The Benefits of Taking Action
Improving support for tenants during the pandemic will serve as both a response to the numerous
financial hardships brought on or exacerbated by the pandemic and will support the continued efforts of
public health to stop the spread of COVID-19 in New Brunswick. Offering tenants greater support will
also safeguard the pre-pandemic work done by government and non-governmental stakeholders alike
on affordable housing, community development, and homelessness 9 from the economic hardships
COVID-19 has caused. Similar measures have been taken by the governments of other small
provinces, such as Nova Scotia, and larger provinces, like Ontario and British Columbia. We therefore
hope that the government of New Brunswick will implement our recommendations as part of its ongoing
commitment to maintaining New Brunswick's position as a leader in the fight against COVID-19.
Thank you in advance for your consideration.
Sincerely,
Those signing on behalf of community organizations
1 Canadian Rental Housing Index. (n.d.). Snapshot, New Brunswick.
2 The next census will take place in May 2021. For more information about census dates and data
3 Government of New Brunswick. (n.d.). 2019–2022 New Brunswick Action Plan. pp. 14-15
4 Canadian Rental Housing Index. (n.d.). Snapshot, New Brunswick.
5 New Brunswick Housing Strategy 2019–2020, p. 1. Available here.
6 To learn more about the BC Rent Bank, and rent banks generally
7 Canadian Housing Renewal Association. (2019). Canada Housing Benefit, p.1. 
8 CMHC-NB Bilateral Agreement under the 2017 National Housing Strategy.
9 Saint John, for example, has reduced homelessness by 34%, an accomplishment that the pandemic threatens.