Since March 2020 the Cathedral has provided a combination of video recording and live streaming Sunday worship. Live streaming Sunday and special worship events are well 'attended' with the number of views this fall ranging between 50 and 75 per service. The November worship during Covid orange had 117 views and the fall ordination had 146. Comments and feedback indicate that the streaming is very much appreciated by those who do not attend every week (allowing others a chance to attend with the 50 or 80 maximum) and those who do not feel comfortable worshiping in person. The live streams keep Cathedral people engaged, nourished, and feeling a part of the church community.
This is an investment in the wider Cathedral community and an outreach tool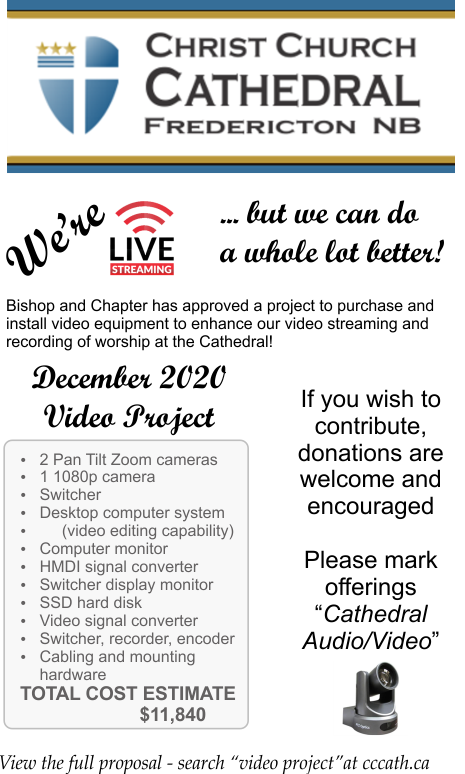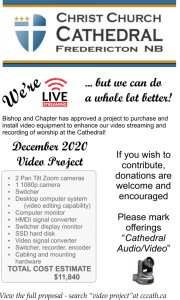 We believe that video streaming should be part of the Sunday routine in the future, recommend that and request the funding for purchase and installation. This is an investment in the wider Cathedral community and an outreach tool that will appeal to those not currently part of a church family.  To date, we have used a web camera and computer belonging to Peter Jacobs. Video editing, when it has occurred, again has used personal computers. There has been a steep learning curve regarding pricing and determining the specifics, but it has been successful, and we have used what we have learned to create this proposal. We want to proceed quickly in order to provide a higher quality solution which will be simpler to provide as soon as possible. To date Peter Jacobs and Kirsten McKnight have been operating the live stream, but we would add to those numbers and create a sign-up category to ensure each event is covered.
Contributions toward this project are welcome. Label "Audio/Visual" as an envelope offering or use the convenient GIVE NOW option on the Cathedral Facebook page or Online Giving page on our website.
Read the entire project proposal here.
| | | | |
| --- | --- | --- | --- |
| | | Unit Price | Total |
| | | | |
| 1 | Video switcher, recorder and Streaming encoder | $1,319 | $1,319 |
| | (4 HDMI Channel, Stream to Ethernet, Record 4 channels) | | |
| 2 | PTZOptics PTZ Camera 30X optical HDMI, SDI 1080P | $2,499 | $4,998 |
| | (Pan - Tilt - Zoom camera remotely controlled-no Operator) | | |
| 2 | PTZOptics camera stand | $125 | $250 |
| 1 | PTZOptics ElectronicPTZ Camera 4K Optics two SDI outputs | $689 | $689 |
| 1 | Basic 1080P camera | $300 | $300 |
| 2 | Video Signal Converter | $85 | $170 |
| 1 | HDMI audio interface (HDMI in - out, Audio out) | $70 | $70 |
| | | | |
| 1 | Dell HDMI monitor for Switcher display | $300 | $300 |
| 1 | SSD USB external drive | $200 | $200 |
| 1 | Dell Desktop computer with Video Editing capability | $1,200 | $1,200 |
| 1 | Dell HDMI monitor for Computer | $300 | $300 |
| | | | |
| 1 | Cabling and mounting hardware | $500 | $500 |
| | | | |
| | | Sub-Total | $10,296 |
| | | Tax | $1,544 |
| | | Total | $11,840 |