Back to volunteering at the Community Kitchen
While the Cathedral teams' regular Saturday volunteer shifts at the Community Kitchen have not yet resumed, Cheryl and Peter Jacobs have begun volunteering for a weekly shift, and they shared this reflection.
After three months of missing our every 4th Saturday evening shift at the Fredericton Community Kitchen due to the restriction of volunteers during our provincial lockdown, we discovered that the Kitchen was welcoming volunteers again with some revisions.  In order to have as few different volunteers in the Kitchen as possible, they are asking people to commit to a weekly shift and those shifts are now four hours rather than the normal two.  We decided that weekly on Saturday was not going to work for us, but with permission for me to leave work early one day a week, we have committed to Thursday afternoons from 2:00-6:00 and we started June 25.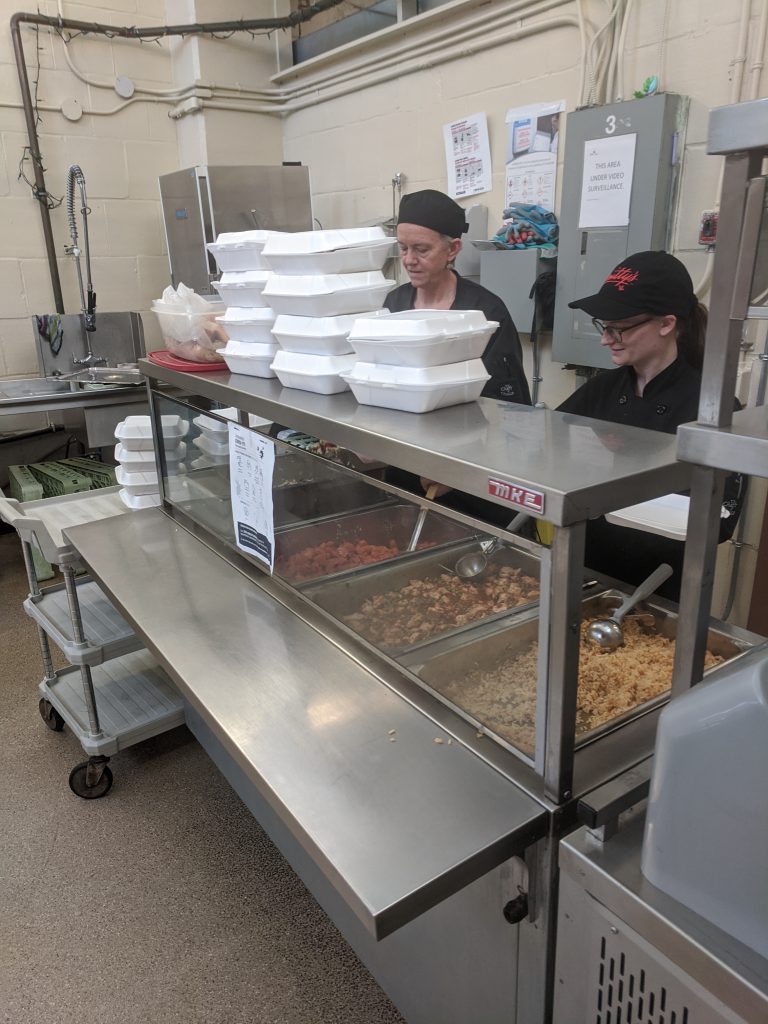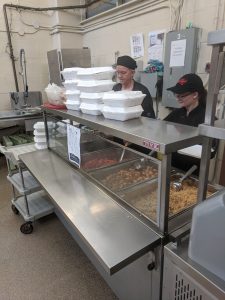 Having volunteers in to help at all is a recent change. For several weeks, the amazing chefs and other staff carried the load of preparing and serving three meals a day on weekdays and two on the weekends - averaging 14,000 meals each month.
Much has changed at the Kitchen with the COVID-19 pandemic.  Each meal is now placed in a take away container; this along with a wrapped dessert and baggie of cutlery, napkin, salt, pepper, sugar and coffee whitener, are bagged for quick and easy taking.  Cold drinks are made ready and coffee is poured to order in paper cups. Meals are dispensed by the chefs on duty from behind a plexiglass shield mounted on a cart in the doorway.  In the main dining area, most of the chairs are stacked on the sides and groups of tables are used as prep stations.
On our first Thursday shift, we helped prepare food items for use in future meals (e.g., Peter and a third volunteer Brian, cut 40 pounds of carrots while Cheryl cracked 40 dozen eggs for scrambling), prepared many cutlery bags, served up the take away containers and washed the pans and cooking utensils.  The time passed quickly as it always did before.  And Cheryl did not miss having to clean the chairs.
We did miss, of course, the interaction with the guests. Heather, the chef our Cathedral team had been working with on Saturdays for several months, commented she misses hearing the happy interaction of the volunteer teams and the guests. Expecting this new way of serving to carry on for a long time we mused about what it will be like in the winter when guests who have no place to go cannot come into a warm building to sit and eat.
The Kitchen is still looking for some volunteers to fill a few weekday and Saturday slots, on a weekly basis.  The daily morning shift runs from 9:00am - 1:00pm.  If you have some time to spare and would like to participate in this worthwhile activity, just send an email to volunteer@frederictoncommunitykitchens.com.  You can also help by donating funds or food items to the pantry box program (supplying food to about 180 families with children from the school lunch program). More details can be found at www.frederictoncommunitykitchen.com/covid19.
- by Cheryl and Peter Jacobs