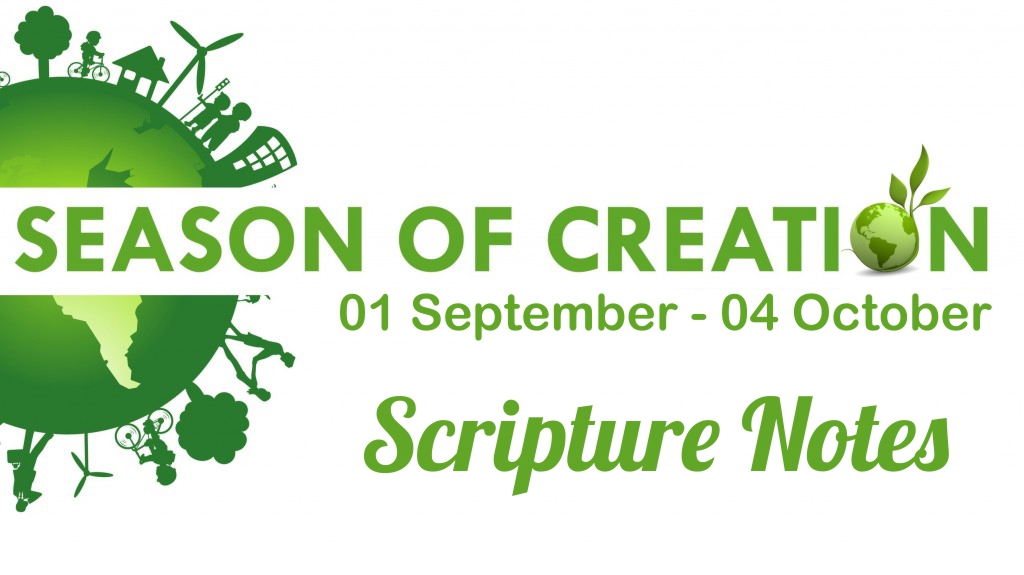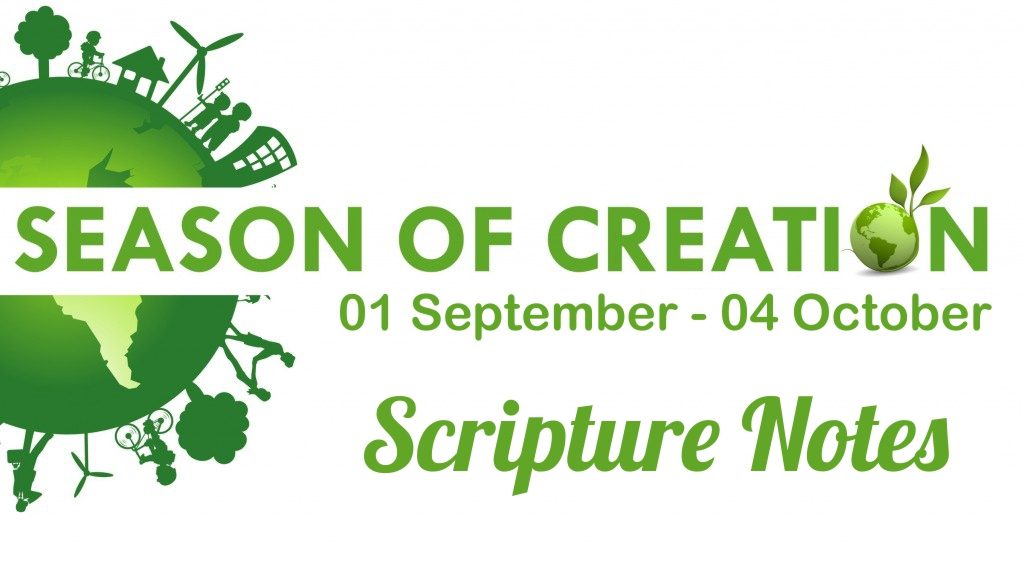 The Sundays during the Season of Creation, 01 September – 04 October 2019 will help us to focus on this year's theme: "The Web of Life."
01 September | 08 September | 15 September | 22 September | 29 September
Sunday, 01 September 2019
Jeremiah 2:4-13
The passage speaks of God protecting Israel during their wandering in the desert and how they forgot God and put their trust in 'cracked cisterns that can hold no water.' – Parallel with today's global idolatry of materialism and economic growth and how we are reaping what we have sown through climate change, biodiversity loss, and soil pollution.
Psalm 81:1, 10-16
Parallel to Jeremiah 2. Note how God's blessing is seen in creation's bounty v.16 of the "finest wheat and … honey from the rock"
Hebrews 13:1-8, 15-16
'Mutual love' includes: – hospitality to the stranger (v.2) such as migrants and climate refugees. – keeping our lives free of the love of money (v.5) in a world where inequality is growing and materialism is a root cause of many of the ecological problems we face – v.16 the sacrifice God wants is sharing what we have!
Luke 14: 1, 7-14
This parable is about generosity to the outsider and stranger, not just looking after our own but seeking to love those on the margins. These include the victims of climate injustice and food insecurity.
Sunday, 08 September 2019
Jeremiah 18:1-11
God as the potter can break down and rebuild nations. – What is God doing today in a world of human-caused ecological chaos? Where do our nations need to be broken and remoulded?
Psalm 139:1-5, 12-18
God's personal care and knowledge for each of us are described using the vivid language of knitting and weaving. – We need to take this truth for ourselves but also apply it to all who are the victims of climate change, water and food scarcity etc.
Philemon 1-21
Luke 14:25-33
To follow Jesus means 'carrying the cross' (v.27) and 'giving up all our possessions' (v.33). – What does it mean to us living in consumer cultures where worth is measured in possessions to give up all this to Jesus? Is it to be taken literally, or is it about changing our relationship with material things and learning to live lightly, simply and generously, recognizing that all we have is God's gift, to be shared with others, and not to be acquired in ways that damage creation's thriving?
Sunday, 15 September 2019
Jeremiah 4:11-12, 22-28
God's judgement on human sin, seen now in creation's groaning (Romans 8.22), causing biodiversity loss and desertification (v.23-26) – Should we see today's crises as God's judgment, or simply as the Earth reaping what we have sown in overconsumption, waste and greed? – Note v.27 promises hope beyond judgment, as always in scripture. This is important today when many have lost hope for the Earth.
Psalm 14
In the context of practical atheism, where people live as if there is no God (v.1) – which we can apply to today's idols of hedonism and consumer materialism, note how God's heart is towards the poor (v.6). How can we show the reality of God in how we care for those on the margins?
1 Timothy 1:12-17
Luke 15:1-12
Jesus' joy and heaven's joy over one sinner who repents. The celebration (especially for the lost coin) is out of all proportion to what's been recovered, but reflects the theme of God's Kingdom as a feast or party. – in our rightful passion for the poor and the planet, we must not lose sight of the heart of the Gospel, that we each need the transforming acceptance and forgiveness that God in Christ offers.
Sunday 22 September 2019
Jeremiah 8:18-9.1
A heartfelt lament on behalf of God's people. – v.20 sums up how many victims of climate change might feel: 'The harvest is past, the summer is ended, and we are not saved.' – if we are to be moved to change our ways in response to God's call and today's crises, we need to recover how to lament, to feel godly sorrow and to experience the Spirit's groaning through creation's groaning (Romans 8,22,26)
Psalm 79:1-9
1 Timothy 2:1-7
In the context of summing up the centrality of Christ in God's purposes (vs.4-7) we are called to pray especially for rulers and authorities (although next week's Psalm 146.3-4 tells us not to trust our rulers!) – in the context of massive injustice, inequality and continuing destruction of God's creation, how should this affect how we pray for our leaders? – if we can vote to choose our leaders, what kinds of priorities does the Gospel suggest we should base that choice upon?
Luke 16:1-13
The parable of the shrewd (or dishonest!) steward is a difficult one and commentators differ on the details of interpretation. – what is much clearer is Jesus' application in vs.9-13: – 'You cannot serve God and wealth' (v.13) is a huge challenge to a world where the richest 20% consume 16 times as much of the Earth's resources as the poorest 20%. – Being faithful stewards of what belongs to another (v.12) surely applies to our use of natural resources, because the whole Earth belongs to God (Psalm. 24.1).
Sunday, 29 September 2019
Jeremiah 32:1-3a, 6-15
Jeremiah buys a field as a prophetic act that, despite a chaotic context, there would be a hopeful future (Jeremiah 29.11) where land would be bought and sold again. – This challenges those otherworldly spiritualities that suggest we should focus on heaven and forget all the problems affecting Earth. – We are called to invest our time, work and money in the land (the social and ecological context) where God has planted us – to seek the shalom – the peace and well-being of the city / town / village (Jeremiah
29.7)
Psalm 91:1-6, 14-end
A psalm of hope written in the context of despair. – How might these words fit our current situation of climate refugees, biodiversity loss and injustice? – v.4 describes God as a protective bird hiding us under its wings. If God made the incredible diversity of wildlife we see, what creatures speak to you of God's character, and how?
1 Timothy 6:6-19
Powerful reminders not to place our security in money and possessions (vs.6-10), but in godly virtues (v.11) reflected in our core relationships – with God, each other, and creation – and in the gift of eternal life (v.12). – note it is the love of money and the desire to be rich that are the root of the problem (vs.9-10), but today's media and the politics of endless economic growth feed us with lies that money and wealth will solve our needs. – Can we, as churches, learn to be counter-cultural in cultivating content with enough (v.8) rather than always wanting more? – Can the perspective that we bring nothing into the world and can take nothing out (v.7), and that it is God (not our work or the economy) that provides us with what we need (v.17) help us live more sustainably?
Luke 16:19-end
The story of the rich man and Lazarus is another powerful warning that ignoring injustice and poverty is a form of practical atheism. Our faith in God has to be reflected in generosity and justice or it is meaningless. – How does this parable come alive in today's situation of a globalized world where the poorest are on our doorstep, and the lifestyles of rich nations are exacerbating the impacts of climate change, deforestation, food and water stress and waste upon the world's poorest?