About 30 ACW members gathered on February 20th to hear Isabelle Hockin talk about her experiences with learning when and how to let go.
Isabelle started with a real life example of when to let go when you don't really know how by recounting a humorous story of finding Lois Baker in the kitchen with her hand stuck in a teapot! Not knowing how to let go!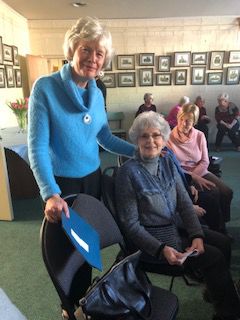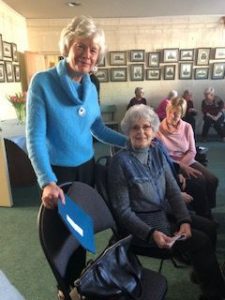 In actual fact, Isabelle's words focused more on letting go of emotions as opposed to things like teapots. She pointed out that human nature often seems to lead us to "holding on tightly instead of letting go", when letting go can lead us to a life of unexpected freedom. By not clutching tightly to what we have, by not trying to choreograph others and by surrendering those challenges to God, we can learn the joys that freedom brings.
Using examples from her own personal experiences in the past, present and looking to the future, she explored how letting go had had a positive effect in her own life.
One of her most recent letting go experiences that she shared was her letting go of her fear of the unknown by volunteering for the Out of the Cold project at Bishop's Court. Like many of us, Isabelle referred to "living in our own bubble". We know about homeless people but we don't necessarily extend that to knowing them without a push in that direction. In her case, it was hearing Bishop Edwards talk about the Out of the Cold project that was her nudge. She began volunteering at the house she had previously called home and is learning to know the people that are now calling it their home out of the cold. She recalled having one of the guests say to her "this is a lovely home. I'd like to have a home like this some day!" It brought to mind the notion that individuals don't turn into what they tell themselves to be but often into what others tell them they are. By letting go of her fears, her life has been enriched!
She wrapped up her talk by noting that there are still things that she sees in herself every day that she needs to work on letting go. This certainly resonated with the audience! She ended with this quote from St. Paul:
I'm not saying I have it all together, that I have it made. But I am well on my way, reaching out for Christ, who has so wondrously reached out for me. Friends, don't get me wrong: By no means do I count myself an expert in all of this, but I've got my eye on the goal, where God is beckoning us onward - to Jesus. I'm off and running, and I'm not turning back.  Philippians 3:13 - The Message
Gail MacGillivray