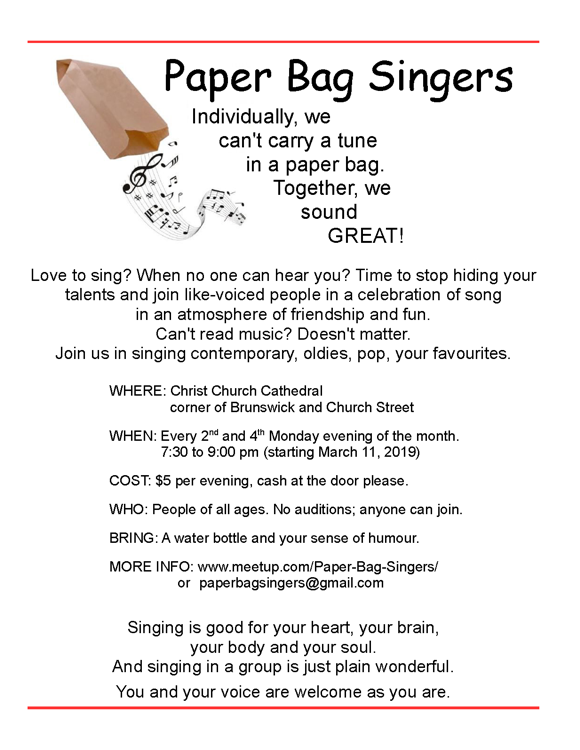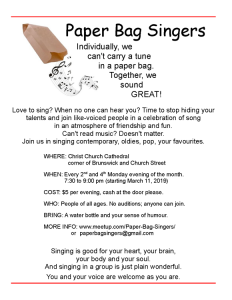 "Individually, we can't carry a tune in a paper bag. Together, we sound GREAT!" Been told you can't sing, think you can't sing? Nonsense! Anyone can sing. Choirs and singing groups for people who don't have "a golden voice" have been springing up all across the UK and Canada. And now here in Fredericton, we have the Paper Bag Singers.
This is a casual group for people of all ages who just want to belt one out and have fun singing with like-voiced people. No auditions, no commitment; join us when you can. We meet every 2nd and 4th Monday of the month, starting Monday, March 11th. Only $5 an evening. Find us online! email questions to: <paperbagsingers at gmail.com>
Listen to Lynn Melanson interviewed on CBC's Shift on 28 February.
Hi all - the main idea here is to have fun. Our esteemed Cathedral music director, David Drinkell, will be giving us tips and hints to help us along the way - thank you David. Check out our meetup site; it costs you nothing to join the meetup group and RSVP. Spread the word; the more the merrier. Attaching a poster, should you wish to print out a few to put up in your place of work or on a local bulletin board - thanks for that if you do.
Hope to hear you all in fine voice - oh, we'll all sound wonderful!
Lynn Melanson