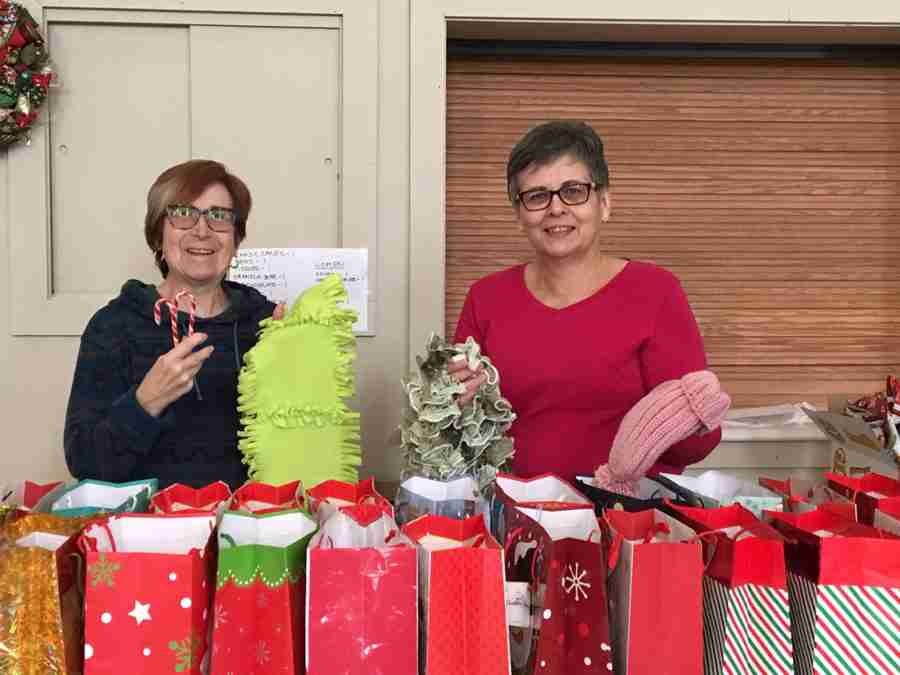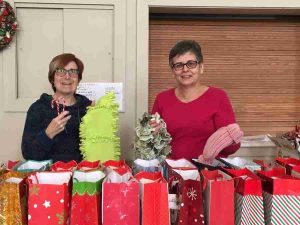 SANTA'S ELVES - Marilyn O'Hara (left) and Mary Lou Cotter busily pack 85 gift bags for people in need who attend the Monday morning drop-in at Cathedral Hall. Bags contain many donated items such as warm socks, a knitted hat or scarf, candy canes, granola bars, tissues, candy, chips, pens, hot chocolate mix, toothbrushes, hotel-size toiletries, Christmas poem, and a handwritten Christmas card with a $15 gift card inside.
The Christmas gathering on Monday, 17 December also features a reading of the Christmas story from Luke by the Dean, homemade cookies from St. Margaret's Anglican Church, gift bags for children provided by New Maryland United Church, live music played by local musicians, along with sandwiches, cookies and fruit donated by members of the cathedral family. The Outreach Committee thanks one and all for such a great outpouring of kindness!
Sixty-three guests turned out on a snowy Monday morning for the annual Christmas drop-in for people in need. A huge amount of delicious food was provided by volunteers from the cathedral congregation, St. Margaret's Anglican Church and New Maryland United Church; the parish nurse looked after health needs; two local musicians played Christmas carols; Dean Geoffrey Hall read the Christmas story from Luke's gospel; each attendee received a gift bag with seasonal treats, warm socks, hats or scarves, a handwritten Christmas card and a gift card worth $15. Leftover food and gifts were donated to the downtown health clinic, the shelter, Transition House and the community kitchen. Thanks to all who helped make the day special!
The drop-ins resume January 7th.
Ann Deveau