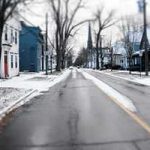 Bishop and Chapter have approved in principle the sending of a letter of intent to enter into a partnership that would support four of the homeless population. The final approval would be subject to the proponents being able to secure adequate federal, provincial and local support as well as the Chapter's approval of a 20-year lease.
Three years ago, a survey was conducted to ascertain the extent and type of homelessness that exists in Fredericton. The data made it clear that a programme needed to be created to move the homeless into safe housing. The cost to the taxpayer for keeping an individual "on the street" is $55,000 per year. The cost for assisting an individual in safe housing is $22,000 per year.
The Community Action Group on Homelessness (CAGH) was created to include government representatives, community leaders, and charitable organizations who serve those in need. The Housing First project aims to provide housing for 40 homeless individuals who will require assistance from social workers as well as citizens who will help them to re-integrate into the community. The move to secure housing is crucial, but the second crucial factor is helping the new tenants to learn how to care for and respect themselves and others. The CAGH group identified church communities as the bet group of people to assist these individuals as they re-connect with society.
The Road Home: A Plan to End Homelessness in Fredericton is the result of extensive research and planning. It outlines strategies and actions that will lead to an end to chronic homelessness in Fredericton. The goals of the plan involve affordable and supportive housing development, as well as community collaboration and the adoption of a Housing First systems approach. The time has come to stop merely managing homelessness: with the Road Home, we will work toward ending long-term persistent homelessness in our community.
Faith MacFarlane, a social worker leading this project, and Jason LeJeune, a business man in Fredericton, are key leaders in moving this project forward. Mayor Mike O'Brien chairs a city-based committee on ending homelessness in Fredericton. Each of these three individuals have met with groups of our congregation to explain the purpose and process of making this happen.
Funding for this project will come from the Federal and Provincial budgets as well as from the private sector. Jason has raised over 1.4 million dollars to date to help pay for the homes designed for one occupant. The City is donating available land, as are private citizens and churches who have available space. The new homes need to be built near a grocery store and a bus stop!
Churches are being approached by the proponents of Housing First because of our faith commitment to help those in need, and our charitable status. The financial piece includes the following:
The land and four housing units (Regent/Albert Street) will be signed over to us at no cost (mortgage free), and as church property, would be tax free.
The Cathedral will receive from the the Province of New Brunswick (PNB) a rental payment of $700/per unit/month on behalf of the occupants; this money would be set aside as "designated" in our accounts and may be used for maintenance; plus $11,000 per unit will be put in an endowment fund managed by the Fredericton Community Foundation such that interest from this $44,000 fund will be available for repairs over time.
PNB social workers will select the tenants who are judged to be good candidates re-integrating into society. A social worker will be assigned to each tenant, and services of a social worker will be available 24/7. The social worker will terminate the tenancy if required. In the event of a vacancy, we will continue to receive rent payments from the PNB until the next tenant is assigned.
The requirements for the Cathedral are two-fold:
- Designate an overseeing/liaison committee to work with the key stakeholders and partners of the Fredericton Housing First Fund. This committee will primarily deal with the legal issues that need to be agreed upon and signed.
- The second committee will be for Friendly Visitors who will assist the tenants in settling in and reconnecting with community life.
We will be asked to provide "Welcome Home baskets" that will include
dishes, towels, cleaning supplies, basic pantry supplies, etc. We are not responsible for appliances and furniture.
CAGH is hoping that government funding and agreements will be in place in time to begin implementation by the fall of 2019. The John Howard Society is ready to start now.
We will be asked to sign a 20 year agreement, but if our circumstances change we will be able to withdraw amicably at any time.
Visit the Road Home, Fredericton web site
Read the complete Plan here
Penny Ericson