We continue to add more ways to listen to Cathedral worship podcasts. In November 2020 we became available on Spotify and Google Podcast platforms.
We're available on TuneIn Radio, the popular and free internet radio tuner. TuneIn says about itself that they offer a "listen anywhere" solution to streaming music, sports, news and, you guessed it, podcasts!
There are many ways to connect to Cathedral worship podcasts with a Mac or PC, smart phone or smart home device.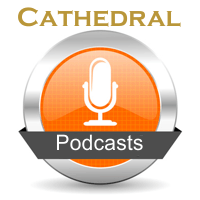 First, the Cathedral hosts its own podcast broadcasting solution called "Podcast Generator," an open source web application running on the Cathedral web server. Visiting the podcast page linked from the web site takes you to a list of the most recent Cathedral podcasts, usually up to a month's worth of episodes. On that page, each entry in the list includes its own player with the audio available right from there. If you have a particular past worship or sermon episode in mind that's not listed, contact the Dean who would be happy to access the archives for you.
If you're interested in subscribing to receive new podcasts each time they appear, the RSS (Really Simple Syndication) feed is available by way of a link on the top right of the podcast page. The RSS link is what you add to an application often referred to as a "podcatcher," a stand alone app on your device for managing podcast subscriptions. Podcatchers (or podcast catchers") are available for Mac, iOS, PC or Android and many good ones are free. A comprehensive list is here.  [Windows App Grover Podcast;  Juice is free for Mac, Linux and Windows]
If you use Apple Podcasts, "Christ Church Cathedral Audio" is listed in the podcast section. Open the podcast tab and search "Christ Church Cathedral Audio." The familiar Cathedral logo should pop out of the list. Add the podcast to your favourites and iTunes will download them whenever they become available.
There are many ways to connect to Cathedral podcasts
Visit TuneIn on your computer, smart phone or smart device, search "Christ Church Cathedral" and the latest episode will begin. With an Amazon Echo device (like the Echo Dot) or an Alexa enabled speaker like Sonos, TuneIn is the default source for music and podcasts. Simply say "Alexa, play TuneIn Christ Church Cathedral." Some will prefer better quality sound with a speaker. Amazon Echo, Google Home,  Apple HomePod and various third party options are also available.
Google Podcasts now carries Christ Church Cathedral Audio. Visit Google Podcasts on the web and search "Christ Church Cathedral Audio" to listen or subscribe.