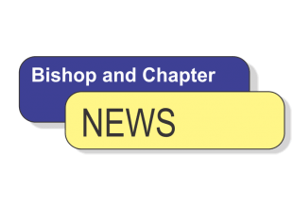 Bishop and Chapter met on Monday, 19 March 2018 with ten of twelve usual members present. J. McGarry was welcomed to the Chapter. Minutes of 19 February 2018 regular meeting and 24 February 2018 following the Annual, were reviewed and adopted. The Dean shared a video created by Creation Matters (Diocese of Ottawa) entitled "Mission Per Square Foot" which showcases St. Luke's Church, Ottawa. This parish is using sacred space in new and creative ways. A discussion followed.
Business Arising
• "Jingle All the Way" - Clarification on donation still pending
• Ending Homelessness in Fredericton - A meeting for members of the Congregation (and Fredericton area churches) is Saturday, 24 March 2018 at the Cathedral Memorial Hall. Area Anglican churches have been invited. All encouraged to attend. <roadhomefredericton.com>
or view the post on the Cathedral web site.
From the Dean
• Normal ministry commitments - 4 home visits, 2 visits to hospital, 2 care home communions, 3 home Communions, diocesan and Cathedral meetings. Preparing for Holy Week and Easter.
• Vacation - 03-16 April 2018
For Discussion
Governance - The Chapter continues to work towards facilitating current terms of reference for its committees. The Executive is continuing to work intentionally with committees either updating existing or creating new versions. The purpose of the documents is to bring greater clarity and transparency to the ministry management structure and assure that communication flows effectively and efficiently within the organization of Cathedral life. Good progress.
Support inquiry - was made about financial support related to Mothers' Union travel for Kathleen Snow. Christian Formation Committee will explore on behalf of the Chapter.
For Decision
• Terms of reference for the committee on Health and Pastoral Care were adopted
• Terms of reference for the committee on Christian Formation were adopted
• that $50,000 be transferred from the general operating account to investment account where it will gain a return until needed
Reports
• Treasurer
- diocesan financial return for 2017 has been submitted
- renewal with WorkSafeNB
- progress being made in revising coding of accounts
- charities return to Canadian Revenue Agency almost complete and should be submitted this week
• Formation - terms of reference completed. Up-coming Family Faith Fiesta, Godly Play training, intergenerational worship on Good Friday
• Administration and Finance - two forms tabled regarding Safe Church administration
• Health and Pastoral Care - terms of reference completed. Ministries functioning well. Isabel Cutler has been appointed coordinator of the pastoral visitors.
• Hospitality/Welcoming/Membership - working at assembling a committee. Congregational volunteers needed. Contact Lynn Meehan.
Up-coming
Holy Week 25 - 31 March 2018
Easter Sunday regular Sunday schedule
Next meetings:
14 May 2018, 18 June 2018 GMH