Greetings Mrs. Bev,
It has truly been a while since we communicated. I must apologize for lack of communication. There have been so many challenges this year that for some time it became overwhelming. By God's grace we finished our first term and are looking forward to the rest of the school year. We begin classes on January 3rd. Our vacation was cut short in order to make up time that was lost during the strike in October.
I pray that all is well with you and yours. Season greetings to you and the church family. I pray God's continued provisions and guidance to your ministry for the new year.
I just wanted to greet you and say thanks once again for your support of St. Hilda's Anglican School. Have a blessed and enjoyable New Year!!
Best Regards,
Jane Martinez
(Principal of St. Hilda's School)
---
Greetings Ms. Bev,
Happy new year to you and your family, I wish you a prosperous new year. Thank you for the wishes and prayers as well, I appreciate it from the bottom of my heart.
I'm happy to learn that my fees are paid, and I'm excited to venture off to the final courses of my program. However, classes begins January 16th and I won't be able to meet with Ms. Stuart until then to discuss the circumstances of my final outstanding course. I'm hoping and praying all goes well.
I will utilize any financial assistance with traveling for this semester. I would appreciate it very much.
I'm sure you're enjoying the winter season in Canada, it must be very beautiful and cold. On the contrary, the weather in Belize is very hot during the day and chilly at night. God is truly an amazing God, we are experiencing different weather under the same sun.
My mom sends her warmest greetings and thanks to you and your church for being such a blessing in my life. Thank you.
Amieka Myers (Belize College Sponsored Student)
God Bless
---
Dear Ms. Bev,
I want you to know I am very happy in school. I am working very hard at doing the best I can in all subject areas. I am having a wonderful semester completely loving my friends and my teachers. I really love math because it gives me the opportunity to expand my mind and see my world differently. It is my favorite subject . I am thinking of taking accounting in third form therefore I will need to have a strong foundation in Mathematics. The subject that poses more of a challenge to me is Spanish because I don't speak a word of Spanish at all and the subject is taught in the Spanish Language. It is the area that scares me the most but I'm proud to say that for mid-semester I got an A in it.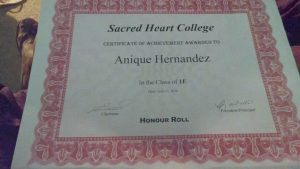 This year a couple teachers came together to start a cheer leading squad at school . I tried out and was chosen to join. I really love it because I get to cheer for my team and to travel to different schools and districts. My mom has made me promise to keep my grades up or she will take me off the squad so now I'm working extra hard because I love being a part of a group of girls that are positive like me.
I really enjoy school because I learn new things every day that will help me in life. I am very grateful to you because you gave me the opportunity to go to school. I am sure that my mom would have found a way to send me to school but this scholarship that you gave me makes me feel like I'm helping my mom through hard work. This scholarship is proof that if I work really hard nothing is impossible. My life has never been happier and for that I say thank you very very much.
I am very curious about how you look and would like to see a picture of you(if you would like). I would like to wish you and your church a very Merry Christmas and a prosperous new year. May the lord bless you guys in many ways,for you are doing his work. You are helping students with your kind heart. You all are very caring and loving. I am very happy that people like you all are in this world.
I have attached a few pictures of myself, My first form Honor Roll certificate and my mid-term report card
P.S It doesn't snow here but it gets really cold in October through to February or March each year.
With love,
Anique Hernandez (Belize High School Sponsored Student)