---
Godly Play
Children have an innate sense of the presence of God. The Godly Play approach helps them to explore their faith through story, to gain religious language and to enhance their spiritual experience though wonder and play. Based on Montessori principles and developed using a spiral curriculum, the Godly Play method serves children through early, middle and late childhood and beyond. Even adults have found Godly Play to be an enriching experience and can be the setting for valuable time spent with the younger Christians in our midst. Come join us!
Check our calendar for up to date scheduling and information about online or in-person sessions. Any who have insight into the complexities of education will understand the need for us to integrate what we learn into our daily lives. Thus far, Godly Play has helped us in our approach to a more rounded "Christian Formation" as opposed to our offering simply "Christian information."
Each of our Godly Play sessions has four essential movements, connected with the traditional liturgical rhythm of the People of God who follow the Way of Christ:
Welcome -- Gathering and Getting Ready  ~  When we greet each child individually at the door and invite them into the circle
Hearing & Responding to the Word of God  ~  When we listen to the story, wonder about it, and then choose something to 'work' on in response
Sharing the Feast  ~  When we share in symbolic 'table fellowship' together following simple prayer(s); this is not a snack-time!
Dismissal -- Saying Goodbye and Leaving the Space  ~  When each child leaves the circle and says goodbye at the door
We're trying hard to be intentional about all four of these key segments, and we'd appreciate any and all support from (you) parents in that direction, too. That is to say, the integrity and depth of the Godly Play session are enhanced when the circle is formed relatively smoothly to start, and as it is maintained through the duration of the hour we have together.  We certainly realize -- and celebrate! -- the fact that this is a major difference between a "drop-in" model of "Sunday School" and what we're trying to communicate and experience in the Godly Play format. In short, we heartily promote the reality that Godly Play is more like worship than school. Thanks for your consideration(s) and support of this approach.
Please direct questions or offers to assist to Kurt Schmidt or Cheryl Jacobs. All are welcome!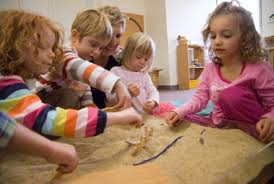 What is Godly Play?
Listen to Kurt Schmidt speak about Godly Play on 29 October 2017 and on 29 April 2018
An article by Archdeacon Cathy Laskey, Summer 2013, The NB Anglican p. 13
---