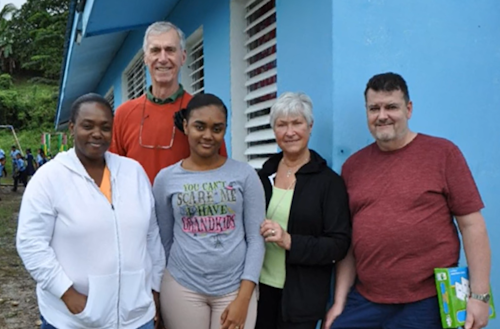 This message of good news was sent to Beverly Morell, former Belize Mission team leader. It is from Amieka Myers, a Belizean student that the Cathedral congregation supported with a high school scholarship, and continued supporting her with tuition for an associate's degree at the University of Belize, from which she graduated in 2018.
Since then, Amieka has become a mother, began a teaching career, and has returned to additional university studies. She has made a wonderful life for herself! As you can tell from her letter, she was grateful for the opportunity to receive a high school and university education, which is an outstanding achievement for a student from St. Hilda's Elementary School. Please keep Amieka, her son, and all of our scholarship students past and present, in your prayers.
---
Greetings Ms. Bev!
I hope everything is okay; it has been a while since we exchanged emails. I hope you and your family are doing well. A lot has changed since the pandemic, and now, a lot has returned to normal, for which we must thank the Lord.
On my end, I'm doing fantastic! I've had some difficulties in the last three years, but I've overcome them with the assistance of God. I am presently a high school teacher, teaching first and second year English and Belizean Studies at Belmopan Baptist High School in Belmopan City, Belize. In addition, I was accepted into UB's Bachelor in English Education program. My first semester began in January and finished on May 12th. Teaching, studying, and being a mother are not simple duties; nonetheless, my prior hardships inspire me to persevere. On the other hand, my son Amarion, is currently in kindergarten and, by God's help, will begin primary school in September. He has a speech issues, and as a busy mom, I haven't had time to coach him. Please keep him in your thoughts and prayers.
I thought I'd offer an update on my life as it's been a while since we exchanged emails. I also believe you and the church would be very delighted to hear I'm establishing a life for myself. I will be eternally thankful for the chance to attend high school and get an associate's degree thanks to the generosity of you, your family, and the church family.
Hoping to hear from you soon.
Regards,
Amieka Myers
---
The Cathedral congregation continues to support students from St. Hilda's School with scholarships for high school tuition. Read about our recent fundraiser, a very successful yard sale to support the scholarship program.