Many will remember the 2005 Cathedral Photo Directory. A directory is a useful tool to bring the family of God together as we come to know one another more fully. In 2005, Universal Studios was chosen to facilitate its creation. Once again, Universal will help us become closer. Its a win/win as they have the opportunity to market portraits to those who wish to purchase them while every participant receives a free directory.
Update Our 27 September – 01 October booking times have been filled. Additional sittings will be available at St. Anthony's Roman Catholic Church, 603 Union Street, (Northside) Fredericton, NB. Book online or contact Universal Portrait Studios to make an appointment.
This message was sent to the congregation outlining the details: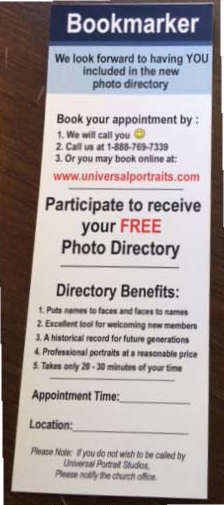 Universal Portrait Studios has been engaged to produce a Church Directory for Christ Church Cathedral. Over the next two weeks, if they haven't heard from you first, they will contact the congregation to set up photo appointments beginning September 27th and running through to October 1st.
It has been several years since our last directory was published and based on feedback from that time, we have decided to include contact information for those who wish. You will be given the option to have photo, name(s) and contact information or just photo and name(s). Many members felt that the Directory would prove a more useful tool if contact information was included. All congregation members will receive a copy of the Directory. And, of course, portraits will be available for purchase if desired.
A sample of photos and Directory content has been placed at the back of the Cathedral. In addition, the Sunday Bulletin for September 11th will include a bookmark from Universal which provides some relevant information, including convenient ways to make an appointment by toll free phone: 1-888-769-7339 or by BOOKING ONLINE.
We encourage you to participate and look forward to having this updated communication tool available to everyone!
Gail MacGillvary
Cathedral Communications Committee
Visit Universal Portrait Studios
Book an appointment online for the Cathedral Directory