The Reverends Nelson and Kara Mejia are SAMS Canada (South American Mission Society) missionaries and priests in the Diocese of Honduras. Kara Mejia is the daughter of retired New Brunswick priest Gordon Thompson and his wife, Bell.
The Cathedral Missions Committee supports their Ministry in Roatan, Honduras with yearly donations.
---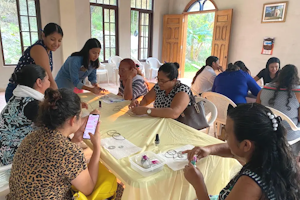 By the Revs. Nelson and Kara Mejia:
The ministry of the Church in Roatan has not stopped; the churches are open and the Gospel continues to be preached, and leaders in each of the churches have led the services worshiping Jesus Christ every week. It has been our responsibility to equip those whom God has placed in our hands for every good work of service, as Ephesians 4:12 says. To equip his people for works of service, so that the body of Christ may be built up!
...
Click here to continue reading the full update from June 2023, and see more photos! We were pleased to see Kara and Nelson in June when they visited New Brunswick to share information about their ministry.