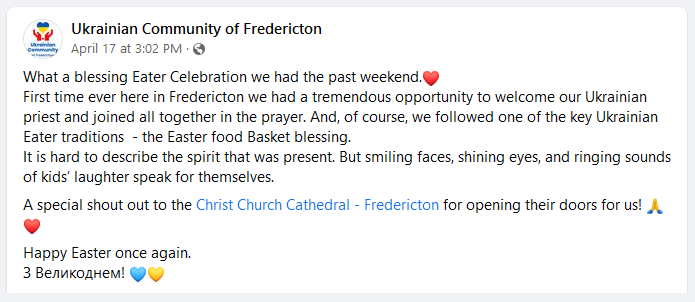 On Saturday. April 15, the Ukrainian Community of Fredericton gathered at Christ Church Cathedral to celebrate Easter.
A priest travelled from Moncton to hold worship for over 100 attendees of all ages. Many wore traditional Ukrainian clothing and brought baskets for a special tradition - the Easter food basket blessing. They were thrilled to be able to worship in their own language, for the first ever Easter service of its kind in Fredericton.
Archbishop David Edwards, Bishop of Fredericton, gave permission for the Greek Catholic service to be held in the Cathedral. In that tradition, Easter was celebrated on Sunday, April 16 this year, so Ukrainians in Fredericton celebrated the Saturday evening before.
Oksana Tesla, volunteer with the Ukrainian Community of Fredericton, coordinated with the Cathedral. She shared,
"Everything went flawlessly and fabulously! We were singing acapella and the acoustics made the Cathedral sing along. Many community members mentioned to me that they were feeling this bright warm light inside during the service. Thank you so much for opening your doors for our community and we really appreciate your support."
Thanks to Cathedral members Hank Williams and Kurt Schmidt for facilitating the event.
Through the Facebook page of the Ukrainian Community of Fredericton, the group commented, "We are so happy to have such an amazing supportive community here in Fredericton. And the opportunity to celebrate at such an incredible place - the Christ Church Cathedral - is a blessing! ... We cannot thank you enough for such generosity! We felt like we are home at the Cathedral!"