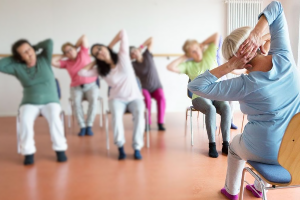 Join us for yoga this winter and spring!
The Cathedral Health Ministry is pleased to announce a new series of chair yoga classes led by experienced yoga instructor Monique Smith.
Ideal for both young and old, chair yoga is a unique way to exercise while sitting in a chair. Classes will be held in the Cathedral, making it easy even for those with mobility issues.
As Monique explains, "As far as abilities, even beginners will feel welcomed! … The key is to listen to one's body."
These weekly classes are sure to provide a stress-free way to exercise your body, mind, and spirit in fun and friendly group sessions.
Chair yoga classes will be held on Fridays from 10:15-11:00 a.m. beginning March 3 and running to the start of June. All classes are drop-in with no need to register. The cost is $5 per session, payable each week. See you there!
Still curious about Chair Yoga? Learn more in the article, Chair Yoga and Why Seated Yoga Poses are Good for You.