As part of our Cathedral Faces series, we are sharing biographies of our staff members and clergy. These dedicated individuals contribute a lot to our community, in ways seen and unseen, and we are thankful for their work.
---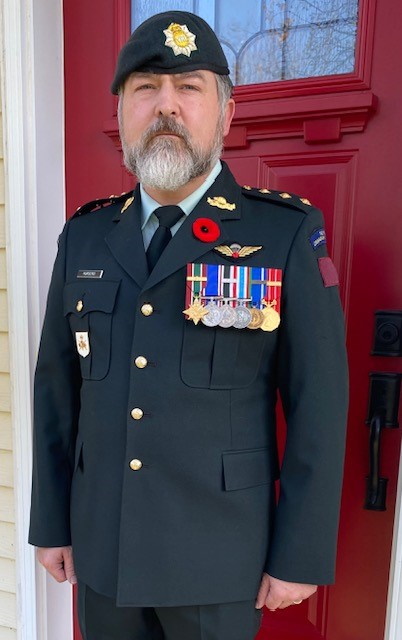 Professionally, Jason is an Army Officer in the Canadian Armed Forces in his 27th year of service. He belongs to the Royal Canadian Regiment which has a historical relationship with the Cathedral. Currently he works in downtown Fredericton at the Carleton Street Armouries as the Regular Force Adjutant attached to the Royal New Brunswick Regiment.
He holds a Bachelor of Military Arts and Sciences Degree from the Royal Military College at Kingston Ontario and a Diploma in Theology from Thorneloe University. He has also completed numerous theological courses with Wycliffe College as part of the Master of Theological Studies, due to changes in military educational funding and free time he has put the degree on hold. As an Infantry Soldier and Officer he has deployed to the former Yugoslavia, Haiti, Afghanistan, and Latvia with domestic operations to the Quebec Ice Storm, the Swiss Air disaster, and local emergencies.
Jason is married to Susan and together they have three children, Gabe, Nate, and Ivy. Jason came to the Anglican tradition in 2013 and has an ecumenical background within other Christian traditions. Jason began as Verger on 01 July 2019.
His role with the military has seen some increased demands combined with additional family commitments has seen the role of Verger take on an increasingly shared role with Hank Williams, whom Jason affectionately refers to as the Verger Emeritus. He is grateful for Hank's willingness to share this role. Should anyone be interested in joining them in this shared role, they are encouraged to speak with Jason.