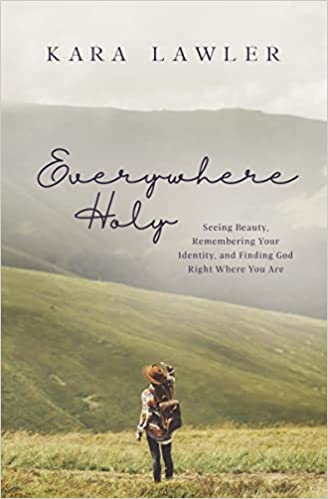 Everywhere Holy
By Kara Lawlor
Thomas Nelson Publications / 2019 / 224 pages
Sitting with this book in my lap as I try to write a book review - a task I haven't undertaken since Grade 12 - I am enjoying these unexpected balmy November days. I'm looking at the still pink hydrangea from my seat on the couch and reflecting on the still blooming sweet peas that I can see from my kitchen window.
The truth is I can also see the barren branches of a normal November and the squishy yellow Hosta leaves that need cleaning up. And therein lies the basis of Everywhere Holy by Kara Lawler.
Kara Lawler is a writer and teacher whose work has been featured on the Huffington Post and Parenting magazine. She and her husband and two children live on a farm in the Allegheny Mountains of Pennsylvania.
Everywhere Holy is a very easy read and the message contained therein is simple- we can see God everywhere. We just have to be open to looking.
-- by Gail MacGillivray
Publisher's Description:
Popular writer and blogger Kara Lawler shows how to embrace the sacred in mundane, ordinary life--and in the process, discover themselves. Life doesn't have to be lived on grand mountaintops for it to be meaningful. We can see God at work right where we are: in our ordinary and mundane routines, in the faces of our family and friends, and--especially--in nature. In beautiful prose, Lawler describes the unique sacredness found in God's creation and offers fifteen inspiring insights for cultivating it day-to-day. She encourages you to make this lifestyle change through the observance of small acts. In so doing, you will discover a holy space that honors God and the life you've been given--and will discover yourself and your unique place in the holy that is everywhere, whether it's in the woods behind your house or in the face of a stranger on a bus in a busy city. No matter where you are, there is holy free for the taking.