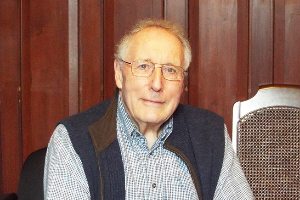 EDITOR'S NOTE:  Bishop George Lemmon died on Sunday, May 22, after a period of failing health. This story is from 2015, part of a series on the diocesan bishops gives some insight into the much-loved man.
The Right Rev. George Lemmon never wanted to be bishop. He's not even sure he wanted to be a cleric.
"I wasn't fussy about becoming a priest," he said. "I felt I had a ministry already, but I came to realize that I probably had to become a priest to do the mission."
[Continue reading below]
* * * * *
Read the full article, written by Gisele McKnight and re-published May 24, 2022 on the Anglican Diocese of Fredericton website.