The COVID-19 pandemic has disrupted the rhythm of daily life, piling unwelcome stress onto most people. Yoga is one of many ways to cope with that problem.
"I got out my yoga mat and went through a stretching routine similar to the one our instructor, Tammy Blyth, uses," said Sally Dibblee, who regularly attends Tammy's Monday afternoon classes at Cathedral Memorial Hall. "I felt so good afterwards."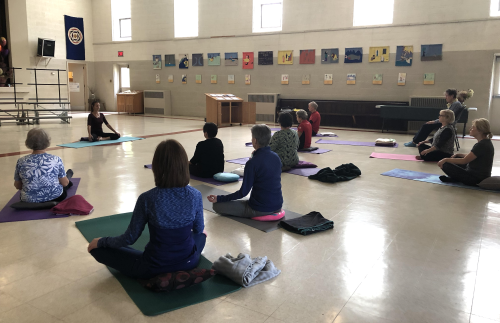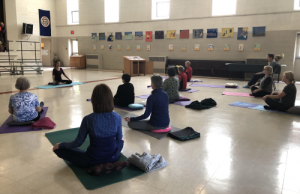 The weekly class, organized by the parish nurse, has had to be cancelled indefinitely due to the provincial state of emergency.
The class includes several beginners, so Tammy has spent time explaining the benefits of the ancient practice of yoga. This type of self-care can help reduce stress and inspire well-being. She said breathing deeply and deliberately provides oxygen to nourish the body; it can also relax the brain and nervous system.
"Tammy is always urging us to breathe, breathe, breathe," Sally said.
The instructor has also pointed out that exercise and stretching not only boost the effectiveness of the lungs and circulatory system, but can also lift the spirits.
"This pandemic is an emotional time with the challenges of cancelled activities, physical/social distancing, worries about the health of loved ones, feelings of isolation, financial concerns," Sally said. "Your whole body can tighten up before you even realize it, but yoga stretches can release those tensions and make you feel better physically and mentally."
Diane Radford is another regular participant who misses Tammy's yoga classes.
"I liked learning new yoga poses, and I appreciated that Tammy was considerate of 'newbies' or older people who might not be as flexible," Diane said. "She always offered modifications and alternatives for the poses."
She said she also enjoyed the sociability of the hour-long class, which has attracted members of the cathedral congregation and people from the community.
"Tammy is always a positive person," Diane commented. "She looks on the bright side of life. I'll be glad when it's safe for classes to resume."
While waiting for the state of emergency to end, Diane continues to exercise by walking outdoors and by dancing.
YouTube is an option for yoga enthusiasts or for people who want to try it while having time on their hands. Many online classes are available there. The "Y" has also produced a series of exercise videos, including several yoga routines, which are available at YMCA360.org
Parish Nurse Kathleen Snow advises that yoga mats should be cleaned regularly at home with a damp cloth and a solution of equal parts vinegar and water. In these times of preventing the spread of virus, people may also wish to clean their mats with a disinfectant wipe or spray.
--by Ann Deveau
The parish nurse will announce resumption of yoga classes when public health authorities allow it.