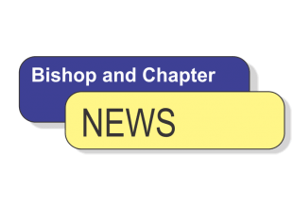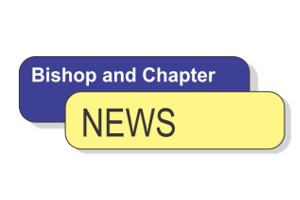 Bishop and Chapter met on Monday, 19 November 2018 with eight of a usual twelve members present. The Dean lead discussion on an article "Financial Transparency" from the Episcopal Church Foundation.
Business Arising
• Nominating Committee - membership: C. Schmidt, T. Fetter and G. Hall. Working to secure nominations for 2019 elections
• Verger resignation - having been received for 30 June
• Sexton's employment letter - has been updated with the modification three weeks vacation
• National Trust Conference - several members of Chapter and others were able to attend. Some important contacts, next steps pending. The Bishop's "joint ad hoc group" with representation from the Cathedral and Diocesan Synod has been dismissed with thanks
From the Dean
The Dean reviewed usual items of commitment over the past month noting seasonal worship and events up-coming:
• Christmas worship schedule as usual: Christmas Eve 4, 8, 11 p.m.; Christmas Day 10 a.m.. Advent Procession 02 December; Christmas Lessons and Carols 23 December
• Community Christmas Carol Sing Wednesday, 12 December 7 p.m. an opportunity to invite family and friends.
For Decision
• Lower hall floor - repairs to deteriorated tiles to address health and safety to be done as soon as possible, as professionally recommended and at a cost of $7000-8000 (from Hall renovation fund)
• Hall refrigerator -to be replaced (about $6219) after quotes reviewed)
• By-Law re Nominating Committee - a motion was carried finalizing revision to make election of the committee by the annual meeting
• Welcoming and Hospitality - terms of reference adopted. Work plan offered is perhaps a potential model for committees
• Gift thanks - having received a gift of $10,394 from Ethel Saunders the Chapter carried a motion to send our thanks
• J. Edwards Memorial - that we make a gift of $100 in memory of our Bishop's wife, Janet and send a letter of condolence
• The Road Home Project - that The Cathedral send a letter of intent to pursue joining the Housing First initiative with four Cathedral units in 2019. Information to come
Reports
• Treasurer - October - Revenue: $44,499, Expenses $39,573 Year-to-Date: Offering $34,860 below 2017; Expenses $53,443 above 2017. A rebate of $3000 from the Diocesan Synod (clergy travel pool and employee benefit payments).
All committees considering 2019 budgets
• Administration and Finance - work on current items continue: Cathedral records management, giving policy, safe church
• Christian Formation - current programs being monitored with some new initiatives to be considered soon (possible congregation retreat)
• Health and Pastoral Care - Good response to health information session on 03 November. Individual pledges in support of Parish Nursing continue to come in and are appreciated
• Communications - Gearing up for Christmas events. Potential for neighbourhood invitation to Carol Sing on 12 December
• Welcoming and Hospitality - several welcome initiatives being rolled out: for Sundays including welcome desk (Cathedral Connections), signage, welcoming volunteers and a welcome kit
• Property - current issues: hall refrigerator, lower hall floor, steeple roofing breach (potentially costly), vandal severed lightning rod copper repair ($317?), O'Dell House balcony repair in the spring
Up-coming
Bishop Hockin Advent Series; seasonal events and worship as reported
Next meetings: 21 January, 11 February, Annual Meeting 24 February
GMH