Three outreach drop-ins will be held during summer 2018
Are you looking for an opportunity to put BELLS into action?
The cathedral's Outreach Committee is offering three possibilities this summer. Its Monday morning drop-ins for people in need usually run from mid-September until mid-May, and then the volunteers take a well-earned summer break. This summer, though, drop-ins will be held at the hall on three Mondays from 8:30 to 10 a.m.: June 18, July 16, August 13.
"The book we're reading throughout the diocese is urging us to develop missional habits nicknamed BELLS: blessing, eating, learning, listening and sending," said Ann Deveau, an organizer of the Monday drop-ins. "We're hoping some folks will want to step up and help us with these three extra drop-ins as a way to bless those less fortunate and to build community."
Ways to help include setting up or cleaning up, baking muffins, providing fruit, bringing doughnuts, chatting and eating with guests, playing live music, doing dishes.
We're hoping some folks will want to step up and help us with these three extra drop-ins
The parish nurse plans to do blood pressure and blood glucose readings for guests on these dates and on several other Mondays this summer. A couple of volunteers might offer to take the guests across the street for a tour of the cathedral with one of the cathedral's summer tour guides.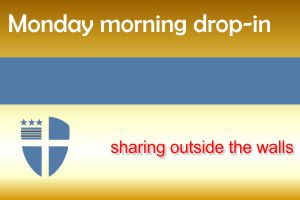 The guests are delighted the drop-ins will take place monthly during the summer. As volunteer Sandy Robb put it: "People are poor in the summer, too, and appreciate the gift cards or bus tickets. Normally, all the churches downtown stop their outreach programs due to summer holidays. This year it's nice that people can still come and keep in touch with their friends."
Please contact outreach chair Penny Ericson or committee member Ann Deveau if you can help with plans for June 18th, July 16th or August 13th.
"If anyone can prepare food or attend any of the three sessions, it would be a wonderful way to put your faith into action," Ann said. "It could also give the usual volunteers a rest which would be its own blessing. We also appreciate your prayers for the success of this summer project."
Cathedral Outreach