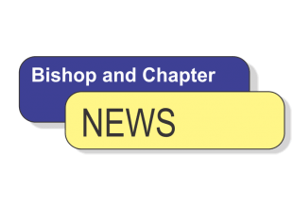 Bishop and Chapter met on Monday, 19 February 2018 with eight of twelve members present. Minutes of 22 January 2018 were adopted. The Dean offered a short study on Mark 8:31–38, the Gospel for the Second Sunday in Lent. What does taking up our cross mean for us?
Business Arising
• Odell house lease - a lease was signed beginning 01 January representing the on-going agreement with the tenants
• Retirement Gift for Diocesan Treasurer - a cheque for $100 has been issued toward this request
• Welcoming brochure/package - the Hospitality / Welcoming / Membership Committee is acquiring membership
• "Jingle All the Way" - performance was a success. Clarification regarding a donation for use of the church is being sought
• Committee terms of reference - efforts continue to develop current terms for each of the Chapter Committees. By spring, a handbook comprehensively describing the function of committees, staff, policies and other operational documents is the goal
• Ending Homelessness in Fredericton - A meeting for members of the Congregation (and Fredericton area churches) will be scheduled in March. Details will follow. <roadhomefredericton.com>
• Nominating Committee report - One chapter nomination (chair of Buildings and Property Committee) still required. Nominations from the floor will be called for all positions at the Annual Meeting. It was noted that a more effective approach to procuring nominations with an earlier start would be preferred in the future
From the Dean
• Normal ministry commitments - 1 home visit, 2 visits to hospital, care home communions, 10 days in Belize, diocesan and Cathedral meetings. Annual Report completed
• Lenten Study - response was not robust. We'll attempt to gently encourage the registrations received to join with a sufficient and adequate number of groups
• Vacation - 03-16 April 2018
For Discussion
Annual Meeting - Annual Report is available. Kendra Patrick of Bringloe Feeney will present financials. Child care will be available. Sandwich and finger food luncheon at about 1:00 p.m., Lynn Meehan will prompt arrangements. The Dean will inquire about audio requirements.
Reports
• Treasurer - Review Engagement for 2017 is complete with financials and report included in the Annual Report.
January totals indicate expenses in excess of revenue by $9,353
The completed 2018 Proposed Budget was circulated for information purposes
• Formation - continuing work on Terms of Reference. First Family Faith Fiesta on 18 February had attendance of 60-70.
• Administration and Finance - work on current projects: records management, safe church continues
• Health and Pastoral Care - continuing to address terms of reference. Health Ministry operates efficiently and effectively under the guidance of the Parish Nurse and the structure in place. Isabel Cutler has been appointed by the Dean to coordinate Pastoral Visitors
Up-coming
25 February - Annual Congregational Meeting
23 February, 5 and 12 March - Bishop Hockin Lenten series
Holy Week 25 - 31 March 2018
Next meetings:
18 March 2018
14 May 2018
18 June 2018
GMH