The Prayer Shawl ministry in Christ Church Cathedral began in 2006 during the early stages of the Parish Nurse and Health Ministry.  It was under the leadership of Wendy Brien and she soon invited Marilyn Lewell to join her.
Listen to Marilyn speak on the Prayer Shawl Ministry on 25 February 2018.

Recently, new knitters have joined the group – Carole Hines, Bobbi Milner, and Melissa Dawe.  We have expanded on the original idea of Prayer Shawls, and have made and distributed fleece blankets to men, whereas the shawls are given to women.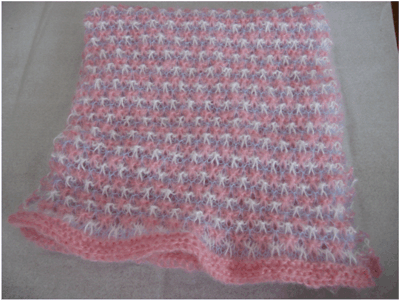 Since we began, we have made and distributed 220 shawls, and 52 blankets to all ages and genders, to places all around the globe! We include beautiful prayers with the shawls and the shawls are prayed over during the knitting process. They are presented in a gift bag. We have never refused a request for a shawl or blanket, and we do not charge for them.
Many moving and touching thank-you notes have been received.  Some families have told us that they have even buried their loved one with the shawl wrapped around them, and/or wrapped the shawl around the urn during the funeral. They have provided much comfort to many.
Anyone interested in joining this ministry is welcome to contact Marilyn Lewell for further information.
For more information visit the web site of the International Prayer Shawl Movement.
Marilyn Lewell