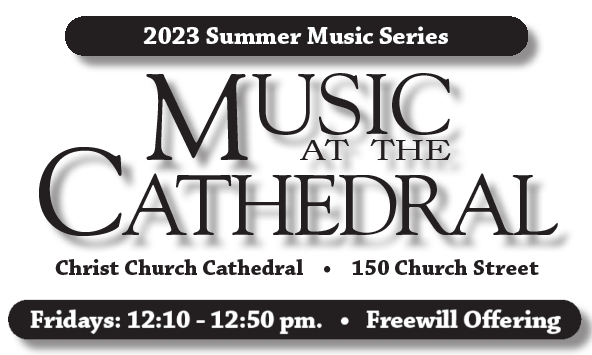 The annual Summer Music Series at Christ Church Cathedral is back! All are welcome to attend these concerts, designed to fit perfectly within the lunch hour.
Fridays from 12:10-12:50 p.m., 30 June - 25 August at 150 Church Street, Fredericton.
Join us inside historic Christ Church Cathedral as we present a series of concerts featuring soloists and instruments such as piano, violin, guitar, organ, fiddle and viola. View the poster.
Free admission, donations encouraged. Proceeds will support the Organ Renovation Fund. Online donations will receive a receipt for tax purposes emailed immediately. Thank you for helping us to preserve the organ! 

June 30
Julien LeBlanc, piano
Matthieu Deveau, violin
Julie Ekker, voice
July 7
Stephen Peacock, guitar
Natalia Delacroix, viola
July 14
Katherine Moller, fiddle
Tom Richards, guitar
July 21
Kathrin Welte, voice
J. Thomas D. Gonder, organ
July 28
Christian Vanicek, piano and organ
August 4
Barachois Summer Music Academy
August 11
New Brunswick Summer Music Festival:
Natalia Delacroix, viola
Nicholas Roy, piano
August 18
Jillian Bonner, voice
J. Thomas D. Gonder, organ
August 25
J. Thomas D. Gonder, organ
* * *
Make a donation to the Organ Renovation Fund
(tax receipt emailed immediately)